Flow-Cytometric Expression of Endoglin Assessed in B-Acute Lymphoblastic Leukemia
By LabMedica International staff writers
Posted on 01 Apr 2021
Acute lymphoblastic leukemia (ALL) is a malignant disorder representing clonal expansion and arrest of maturation of lymphoid progenitor cells in the bone marrow, blood, and extramedullary sites. The incidence of ALL generally follows a bimodal distribution, with its first peak occurring in childhood and the second around the age of 50.
CD105 or Endoglin is a homodimeric transmembrane co-receptor that interacts with transforming growth factor-Beta (TGF-β) receptors type I and III, consequently adjusting angiogenesis by regulating proliferation, differentiation, and endothelial cell migration. It is expressed on the surface of endothelial cells, stromal cells, melanocytes, and different hematopoietic cells.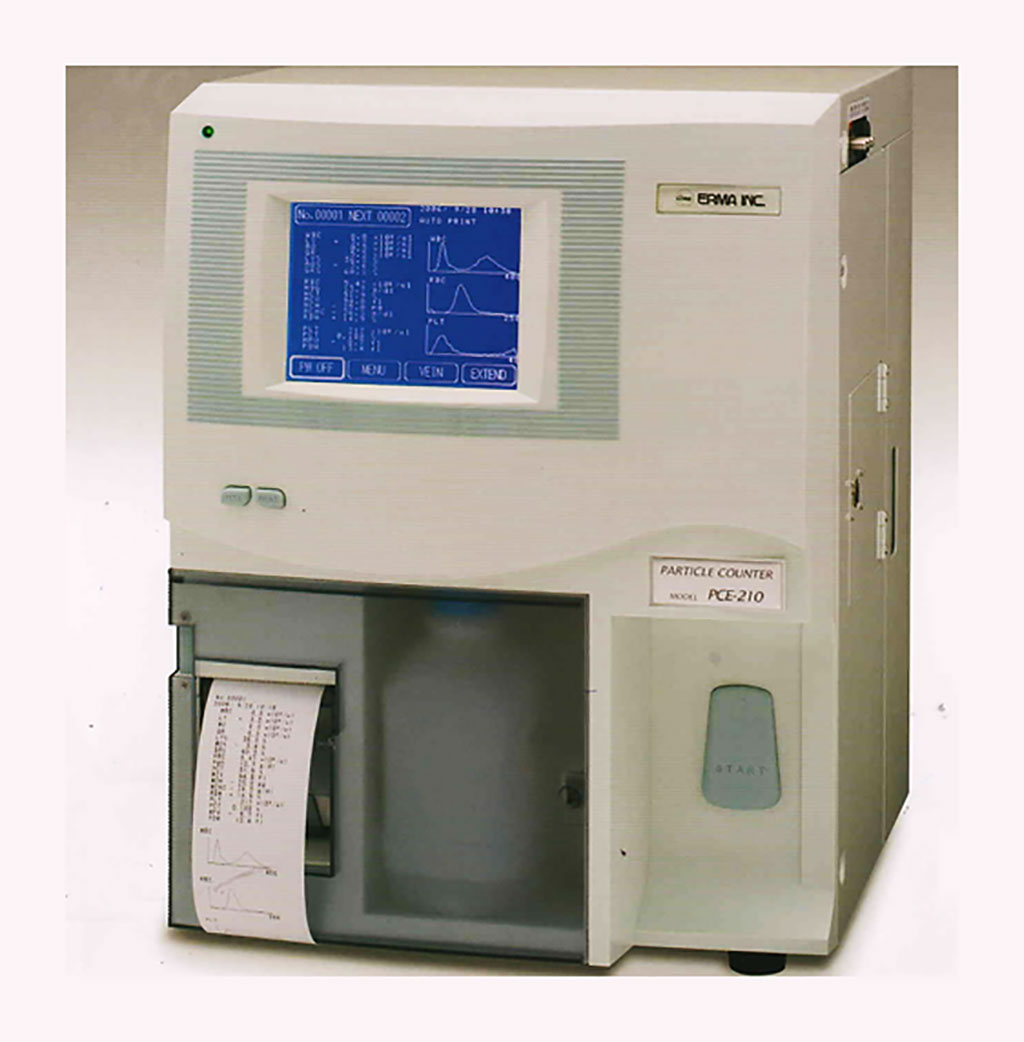 Clinical Scientists at the Tanta University (Tanta, Egypt) included in a study 80 children newly diagnosed with B-acute lymphoblastic leukemia (B-ALL) from June 2017 to August 2020. There were 50 boys (62.5%) and 30 girls (37.5%) with a male to female ratio of 1.6:1, their ages ranged from 1 to 15 years with a median value 7.3 years. Cases were diagnosed based on clinical presentation, complete blood count (CBC), bone marrow (BM) examination, morphological and cytochemical smears as well as immunophenotyping. The CBC was performed on an ERMA PCE-210N cell counter (ERMA Inc, Tokyo, Japan).
Liver and renal function tests, and lactate dehydrogenase enzyme (LDH) on a fully automated chemistry analyzer (Konelab Prime 60i, (Thermo Fisher Scientific, Vantaa, Finland), erythrocyte sedimentation rate (ESR), and cerebrospinal fluid (CSF) cytological examination. Immunophenotyping analysis was done on BM samples collected into EDTA-containing tubes using the four-color flow cytometry Becton Dickinson (BD) FACSCalibur instrument (BD Biosciences, San Diego, CA, USA).
The scientists reported that the mean and standard deviation (SD) of the hemoglobin (Hb) level was 7.9 ± 1.8 (g/dL), blast percentage in peripheral blood 38 ± 23.3 (%), and ESR 82 ± 15.3 (mm/h). The median and range for the total leucocyte count was 20 (1–110) ×10
3
/mm
3
, platelets count 65 (10–260) ×10
3
/mm
3
, blast percentage in bone marrow 82.5 (50–98) %, LDH level 822 (340–3,200) IU/L. CD105 was expressed in 41.2% of B-ALL patients. Higher expression of CD105 was observed in high and very high-risk groups. The multivariate analysis considered CD105 positivity as an independent prognostic marker for response to induction therapy. Values higher than 2.5 Specific fluorescence indices (SFIs) and 35% expression were sensitive predictors to induction failure.
The authors concluded that CD105 can be considered a potential marker for the prognosis of pediatric patients with B-ALL, as patients who showed expression higher than 35% and 2.5 SFIs were at higher risk for induction failure and it can serve to optimize treatment decisions. The study was published on March 16, 2021 in the
Journal of Blood Medicine.
Related Links:

Tanta University
ERMA
Thermo Fisher Scientific
BD Biosciences