Rh Alloimmunization Explored in Chronically Transfused Thalassemia Patients
By LabMedica International staff writers
Posted on 01 Mar 2021
Chronic life-long transfusions are often required for patients with severe thalassemia to provide normal red blood cells and to suppress the patients' own ineffective erythropoiesis. Cumulative exposure increases the risk for red cell alloimmunization and subsequent delayed hemolytic transfusion reactions (DHTRs).
The prevalence of alloimmunization among patients with thalassemia ranges from 3% to 42%, with most antibodies directed against the Rh system. The Rh blood group system is not only the most immunogenic following ABO, but it is highly complex with more than 50 serologically defined antigens and more than 500 RHD and RHCE alleles identified.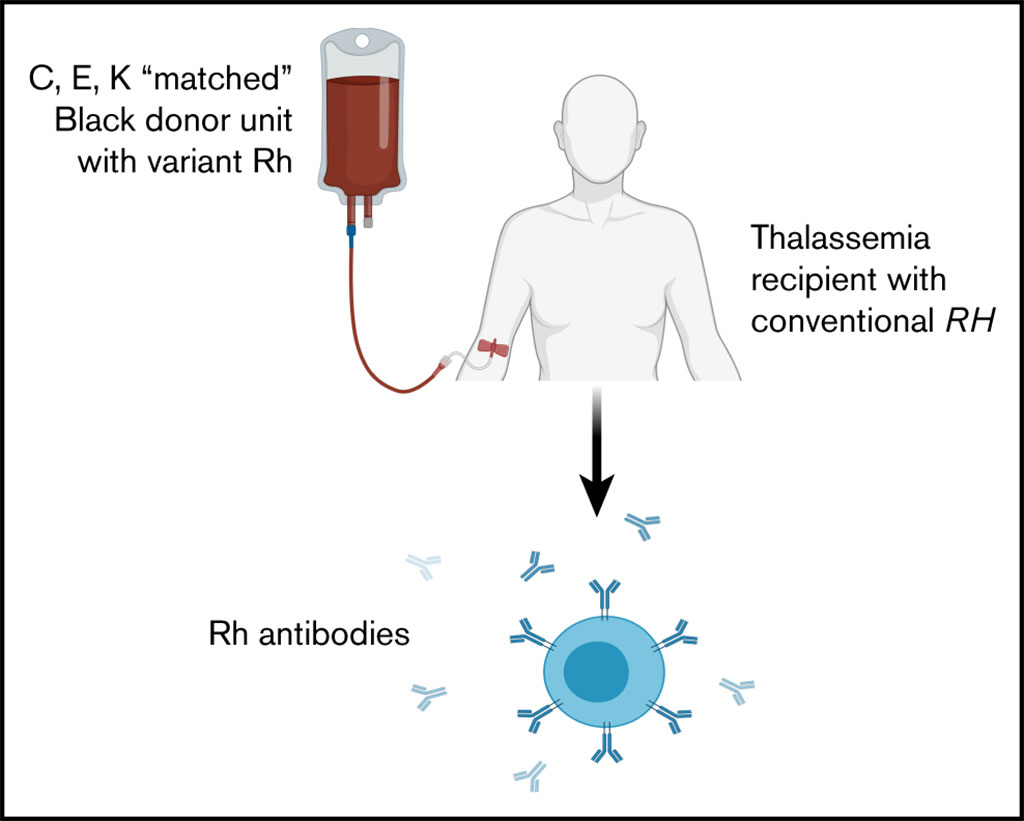 Medical Scientists at The Children's Hospital of Philadelphia (Philadelphia, PA, USA) examined retrospectively Rh antibodies among 40 chronically transfused patients (Asian, White, African Americans, Indian, Middle Eastern) with thalassemia receiving a mean of 174 serologic prophylactic RhD, C, E, and K matched red cell units. They examined the patients' RH genotype, as well as donor race and Rh phenotypes over three transfusion events preceding antibody detection.
A 3-cell antibody screen was performed before each transfusion or when a new antibody or DHTR was suspected. In 2003, antibody identification transitioned from tube method to a gel-based method (Ortho Clinical Diagnostics, Raritan, NJ, USA). Red cell antigen typing was performed by tube method, but starting in 2017, they obtained genotypes via the Human Erythrocyte Antigen BeadChip (Bioarray/Immucor, Warren, NJ, USA). RH genotyping was performed with Bioarray/Immucor's
RHD
and
RHCE
BeadChip arrays, and polymerase chain reaction–based assays.
The investigators detected 18 alloantibodies in 13 of 40 patients (32.5%), with an alloimmunization rate of 0.26 antibodies per 100 units transfused. Thirteen antibodies (72.2%) were directed against Rh (five anti-D, four anti-C, two anti-E, one anti-e, and one anti-V), despite donor phenotypes that confirmed lack of transfusion of D, C, or E antigens to patients lacking the corresponding antigen(s). Ten of 40 patients had an altered RH genotype, but the Rh antibodies were not associated with patients with variant RH. African Americans donors with a known high frequency of RH variants provided 63% of the units transfused in the three visits preceding unexplained anti-Rh detection.
The authors concluded that Rh alloimmunization not explained by the thalassemia patients' RH genotype or the donors' serologic phenotype suggests more precise matching is needed, and the role of donor RH genotypes on alloimmunization should be explored. Extending Rh D, C, and E matching to include c and e would result in better-matched units and further minimize Rh alloimmunization. The study was published on February 2, 2021 in the journal
Blood Advances.
Related Links:

The Children's Hospital of Philadelphia
Ortho Clinical Diagnostics
Bioarray/Immucor