Elevated Clotting Factor V Found with Severe COVID-19
By LabMedica International staff writers
Posted on 08 Oct 2020
Coagulopathy causes morbidity and mortality in patients with coronavirus disease 2019 (COVID‐19) due to severe acute respiratory syndrome coronavirus‐2 (SARS‐CoV‐2) infection. Most doctors now know that COVID-19 can cause blood clots, potentially leading to paralysis, stroke, heart attack and death.
Hypothesized mechanisms for thrombosis invoke inflammation, endothelial dysregulation, patient immobilization, antiphospholipid antibodies, and coagulation factor VIII dysregulation. However, direct links between the SARS‐CoV‐2 virus and coagulopathy remain unmapped. Common laboratory findings include elevations of D‐dimer and the acute phase reactants fibrinogen and factor VIII.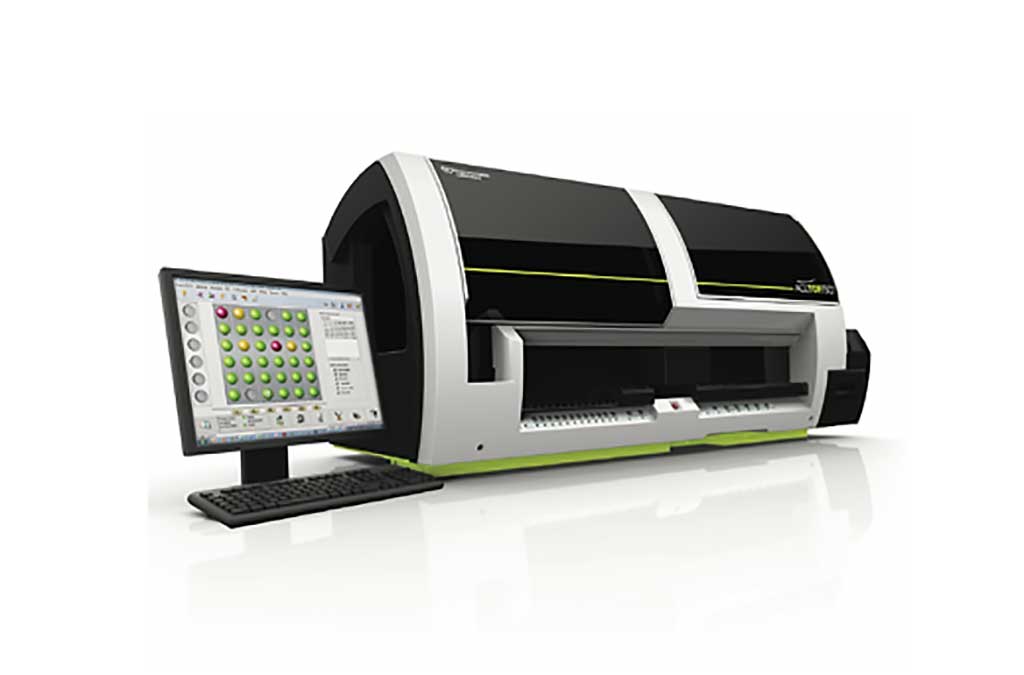 Medical Scientists in the coagulation laboratory at the Massachusetts General Hospital (Boston, MA, USA) and their colleagues collected patient specimens in a prospective cohort study over approximately one month at the beginning of the COVID‐19 pandemic in Massachusetts, USA (March 23, 2020 to April 27, 2020). The team studied more than 100 patients treated in the intensive care unit for COVID-19. For factors V, X, and VIII, D‐dimer, and fibrinogen they also retrospectively obtained historical values from patients with specimens submitted to our laboratory prior to the COVID‐19 pandemic.
The scientists measured Factor V, VIII, and X activities and activated partial thromboplastin time (aPTT) waveforms in the same leftover clinical specimens using validated clinical laboratory assays. Prothrombin time (PT), aPTT, heparinase aPTT (Stago, Asnieres, France), and the activities of factors II, VII, IX, XI, and XII were recorded only if determined on a specimen collected within six hours of the study specimen.
Both D‐dimer (bioMérieux, Marcy‐l'Étoile France) and fibrinogen (Stago) values were recorded at the closest time point to the study specimen and were only included if they were measured within two days of the study specimen. Factor assays were one‐stage, PT‐based for factors II, V, VII and X, and aPTT‐based for factors VIII, IX, XI, and XII, using an ACL TOP 750 analyzer, Hemosil calibrator, Synthasil or Recombiplastin, all from Instrumentation Laboratory (Bedford MA, USA), and factor‐deficient plasma from Precision Biologic (Dartmouth, NS, Canada).
The study found that patients with elevated factor V were more likely to have blood clots in the lungs, called pulmonary embolism, and deep vein thrombosis (DVT), or clots in the veins. Of patients with high levels of factor V, one-third had either DVT or a pulmonary embolism, compared with 13% of patients with lower levels. While patients with high factor V levels were at greater risk for clotting problems, patients with lower factor V levels had a higher risk of death. A decrease in factor V levels might indicate patients are progressing to a serious and often fatal condition in which clotting processes become overactive.
The authors concluded that their study revealed factor V perturbations as a previously unrecognized feature of severe COVID‐19, adds a mechanistic candidate to ongoing investigations of COVID‐19 coagulopathy with potential links to SARS‐CoV‐2 disease biology. The study was first published on August 24, 2020 in the
American Journal of Hematology.
Related Links:

Massachusetts General Hospital
Stago
bioMérieux
Instrumentation Laboratory
Precision Biologic