Endotheliopathy Assessed in COVID-19-Associated Coagulopathy
By LabMedica International staff writers
Posted on 23 Jul 2020
An important feature of severe acute respiratory syndrome coronavirus 2 pathogenesis is COVID-19-associated coagulopathy, characterized by increased thrombotic and microvascular complications. COVID-19 infection coagulopathy is characterized by high D-dimer and fibrinogen concentrations with minor changes in prothrombin time and platelet count.
The disease consists of an early infectious phase in which the virus enters pulmonary epithelial cells via surface angiotensin-converting enzyme 2 (ACE2) receptors, causing viral pneumonia, followed by a systemic inflammatory phase characterized by respiratory failure and multiorgan dysfunction. Derangements in cytokine concentrations including interleukin-6 (IL-6) are believed to play a role in the disease.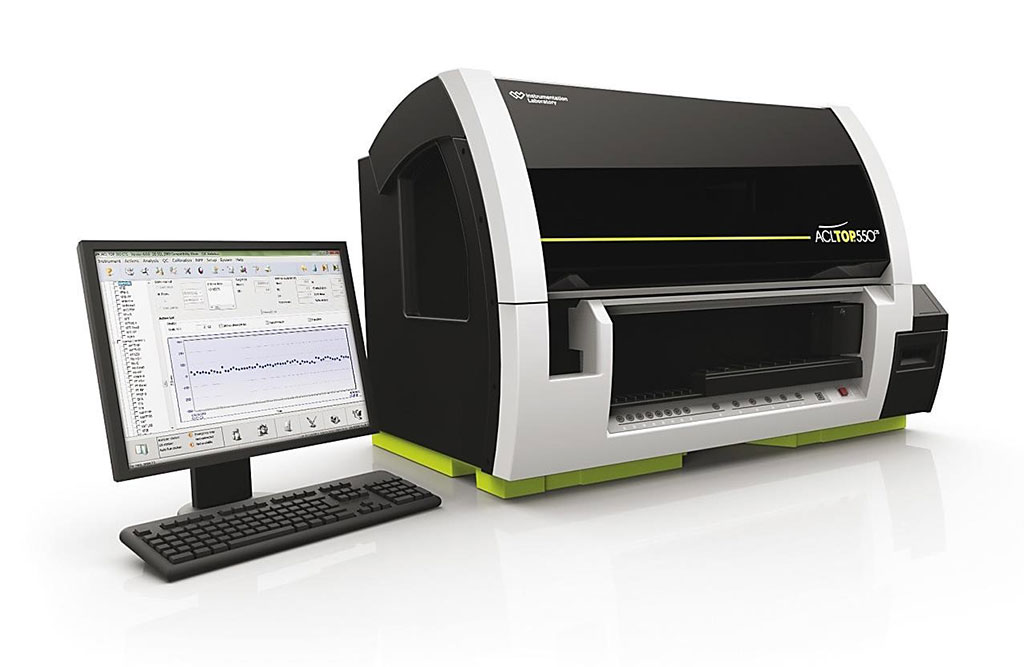 A large team of Medical Scientists led by those at the Yale School of Medicine (New Haven, CT, USA) carried out a cross-sectional study of adult (≥18 years) patients hospitalized between April 13 and April 24, 2020, with a confirmed diagnosis of COVID-19, as measured using polymerase chain reaction (PCR) assays on nasopharyngeal swab samples. The team examined the blood of 68 patients with COVID-19. Of these patients, 48 were critically ill in an ICU. The other 20 were hospitalized, but not in the ICU.
The investigators measured D-dimer and fibrinogen using a BCS XP System (Siemens; Malvern, PA, USA). Measurements of antithrombin activity, protein C activity, protein S activity, α2-antiplasmin activity, von Willebrand factor (VWF) antigen, VWF activity, and factor VIII activity using the ACL TOP (Instrumentation Laboratory; Bedford, MA, USA). For measurements of PAI-1 and thrombin-antithrombin complexes (TAT), plasma supernatant was frozen, then sent to national Clinical Laboratory Improvement Amendments-certified reference laboratories, where testing for these analytes was done by ELISA. Soluble P-selectin, soluble CD40 ligand (sCD40L), and soluble thrombomodulin were measured also using ELISA assays.
The scientists reported that markers of endothelial cell and platelet activation were significantly elevated in ICU patients compared with non-ICU patients, including VWF antigen (mean 565% ± 199 in ICU patients versus 278% ± 133 in non-ICU patients) and soluble P-selectin (15.9 ± 4.8 ng/mL versus 11.2 ± 3.1ng/mL). VWF antigen concentrations were also elevated above the normal range in 16/20 (80%) non-ICU patients. They found mortality to be significantly correlated with VWF antigen and soluble thrombomodulin among all patients. In all patients, soluble thrombomodulin concentrations greater than 3.26 ng/mL were associated with lower rates of hospital discharge.
Alfred I. Lee, MD, PhD, an associate professor of medicine and a senior author of the study said, "Endothelial damage is a central component in the entire spectrum of COVID-19 disease. Our study is the first to demonstrate that this process of endothelial damage is present in a wide range of COVID-19 patients, particularly as people become critically ill."
The authors concluded that endotheliopathy is present in COVID-19 and is likely to be associated with critical illness and death. Early identification of endotheliopathy and strategies to mitigate its progression might improve outcomes in COVID-19. The study was published on June 30, 2020 in the journal
The Lancet Haematology.