Direct Oral Anticoagulants Determined by RDT in Urine Samples
By LabMedica International staff writers
Posted on 10 Feb 2020
The rapid determination of the presence of direct oral anticoagulants (DOACs) in a patient remains a major challenge in emergency medicine and for rapid medical treatment decisions. All DOACs are excreted into urine.
Emergency situations with a need for point-of-care testing for the presence or absence of DOACs include emergent or urgent major surgical interventions, clinically relevant bleeding, or thrombotic episodes with known or unknown anticoagulant therapy, as well as the evaluation of unconscious patients or those unable to inform clinicians about their anticoagulant therapy.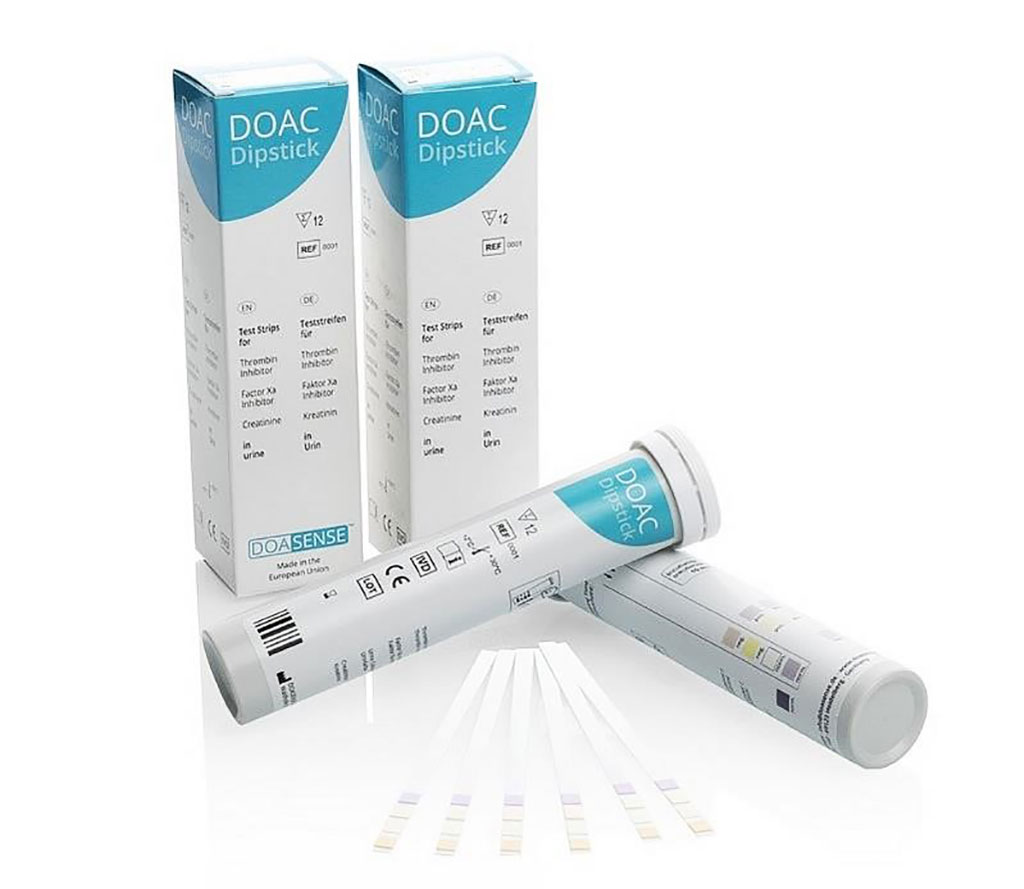 An international team of scientists led by the Ruprecht Karls University of Heidelberg (Heidelberg, Germany) carried out a prospective, open-label, controlled, nonrandomized, multicenter study in Germany on subjects treated with a DXI (apixaban, edoxaban, and rivaroxaban) or the DTI dabigatran were included. The subjects were recruited from 18 outpatient care units specialized in oral anticoagulation.
Urine samples (4 mL) were transferred into polyethylene terephthalate tubes (V-Monovette Urine Z 4mL, Sarstedt AG, Nümbrecht, Germany) using plastic syringes. The DOAC Dipstick test (DOASENSE GmbH, Heidelberg, Germany) was performed on the urine sample at the time of collection by site personnel. Next, barcodes were attached to the duplicate samples and recorded in the case report form. The samples were frozen immediately at –25 °C, transferred without interrupting the cold chain to a central laboratory for LC-MS/MS analysis. The chromatography system consisted of an ACQUITY H-Class UPLC System connected to an Autosampler, quaternary HPLC-Pump, Xevo TQ-S mass spectrometry detector, and a CSH C18 Column (Waters GmbH, Eschborn, Germany).
Nine hundred and fourteen subjects were included and 880 were evaluated per protocol (451 factor Xa inhibitors apixaban, edoxaban, and rivaroxaban, 429 thrombin inhibitor dabigatran) at 18 centers. The sensitivity, specificity, accuracy, and predictive values and agreement between methods for determination of factor Xa inhibitors were at least noninferior to 95% with a 0.5% margin and of thrombin inhibitor superior to 97.5%. These results were compared with LC-MS/MS results in the intention-to-analyze cohort. The receiver operating curve showed c-values of 0.989 (factor Xa inhibitors) and 0.995 (thrombin inhibitor). Visual evaluation of the factor Xa and thrombin inhibitor pads was not different between centers.
The authors concluded that the present study shows that DOAC Dipstick test sensitively and specifically determines the presence of both Xa and IIa inhibitors in urine samples, if compared with the gold standard of LC-MS/MS. The evaluation of the DOAC Dipstick test in emergency medicine and other patient groups is ongoing. The study was published in the January 2020 issue of the journal
Thrombosis and Haemostasis.
Related Links:

Ruprecht Karls University of Heidelberg
Sarstedt AG
DOASENSE GmbH
Waters GmbH