Immune Profiles Analyzed in Acute Myeloid Leukemia Bone Marrow
By LabMedica International staff writers
Posted on 03 Feb 2020
In acute myeloid leukemia (AML), myeloid lineage precursor cells modified by somatic mutations and transcriptomic dysregulation infiltrate the bone marrow (BM) and disrupt normal hematopoiesis.
Risk stratification of AML patients is used to predict therapy response, tailor treatment intensity, and guide clinical decision making when considering allogeneic hematopoietic stem cell transplantation (allo-HSCT). The immunologic microenvironment in various solid tumors is aberrant and correlates with clinical survival.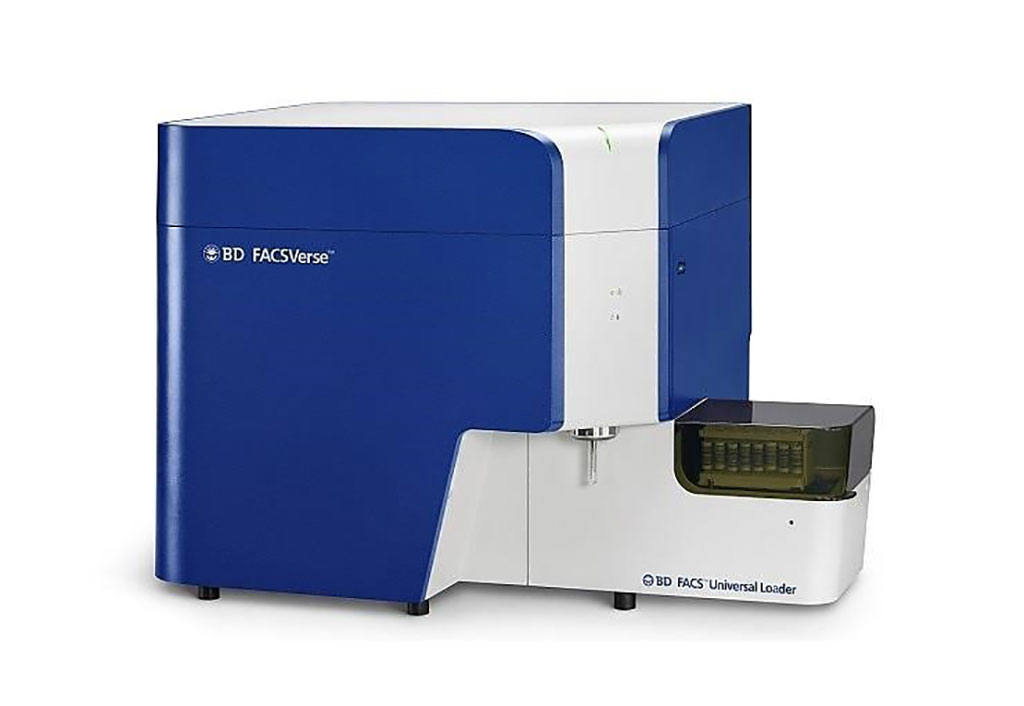 Hematologists at the University of Helsinki (Helsinki, Finland) compared the immunologic landscape of formalin-fixed paraffin-embedded BM trephine samples from 69 AML, 56 chronic myeloid leukemia (CML), and 52 B-cell acute lymphoblastic leukemia (B-ALL) patients at diagnosis to 12 controls with 30 immunophenotype markers using multiplex immunohistochemistry and computerized image analysis.
The team used their hematopathologic expertise to construct tissue microarrays (TMA) blocks by punching two 1 mm cores per donor located in areas of the BM biopsy characterized with high leukemic infiltrations. Control cores were punched from representative areas. They used multiplexed immunohistochemistry (mIHC), to determine quantitative compositions and phenotypic states of millions of immune cells in AML BM. The mIHC method combines 5-plex fluorescence and 3-plex chromogenic immunohistochemistry (IHC). The cells were processed for imaging and analysis. Cell samples were analyzed with FACSVerse System (BD Pharmingen, San Diego, CA, USA).
The investigators identified distinct immunologic profiles specific for leukemia subtypes and controls enabling accurate classification of AML, CML, B-ALL, and control subjects (AUC = 1.0). Interestingly, two major immunologic AML clusters differing in age, T-cell receptor clonality, and survival were discovered. A low proportion of regulatory T cells and pSTAT1+cMAF− monocytes were identified as novel biomarkers of superior event-free survival in intensively treated AML patients. They also demonstrated that AML BM and peripheral blood samples are dissimilar in terms of immune cell phenotypes.
The authors concluded that the immunologic landscape considerably varies by leukemia subtype suggesting disease-specific immunoregulation. Furthermore, the association of the AML immune microenvironment with clinical parameters suggests a rationale for including immunologic parameters to improve disease classification or even patient risk stratification. The study was published on January 22, 2020 in the journal
Blood Advances.
Related Links:

University of Helsinki
BD Pharmingen