Laser Incubator Developed for Rapid Blood Group Typing
By LabMedica International staff writers
Posted on 01 Oct 2019
Blood transfusion is a critical treatment for a variety of hematological conditions, including cancer chemotherapy, sickle cell disease treatments, bleeding trauma, including childbirth, and major surgery.
Over 21 million blood components are transfused in the USA alone every year; each having the potential for fatal hemolytic transfusion reactions if recipient and donor are not accurately matched. Identification of antigens and antibodies often requires incubation at human body temperature of 37 °C. Depending on the method, this incubation step can take 5 to 30 minutes.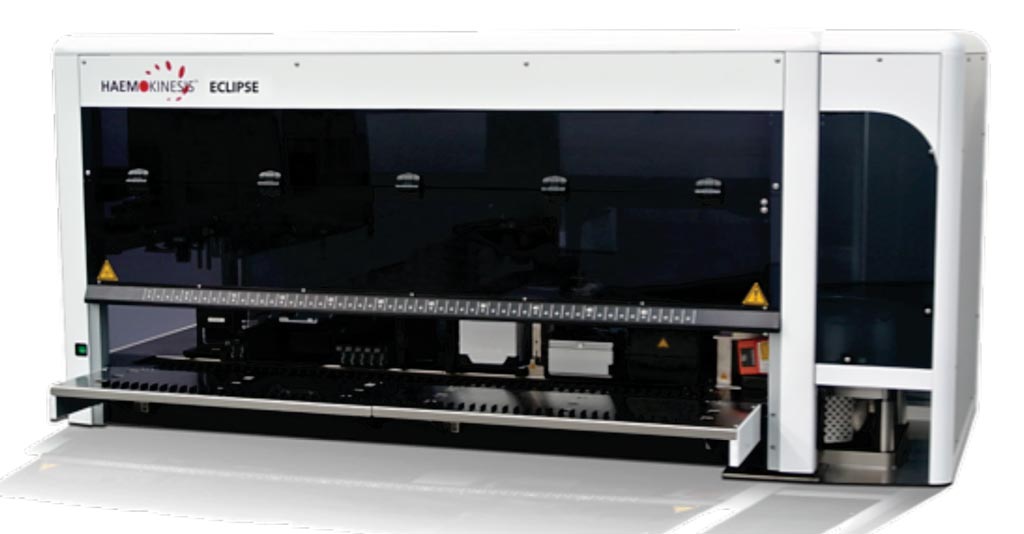 Chemical Engineers at Monash University (Clayton, Australia) and their colleagues at Haemokinesis (Hallam, Australia) developed rapid optical heating via laser, where targeted illumination of a blood-antibody sample in a diagnostic gel card is converted into heat, via photothermal absorption. The laser-incubator heats the 75 µL blood-antibody sample to 37 °C in less than 30 seconds.
Whole blood samples were stored by refrigeration at 4 °C with ethylenediaminetetraacetic acid (EDTA) as anticoagulant and were used within two weeks post-collection. Reagent red blood cell solutions (Haemokinesis: Stargel10 3 cell screen,) were used for all RBC-antibody incubation tests. Immunoglobulin-G (IgG) anti-D antibody was used for all antibody tests except for the sensitivity control test. The RBC-antibody mixtures were prepared directly in the gel card wells (Haemokinesis Stargel10 AHG System). The gel card heating block (Prototype #5, Haemokinesis) has a fixed temperature of 37 °C. Temperature was detected during incubation directly inside the sample volume in a gel card well using a thermocouple probe.
The team showed that red blood cells act as photothermal agents under near-infrared laser incubation, triggering rapid antigen-antibody binding. They detected no significant damage to the cells or antibodies for laser incubations of up to fifteen minutes. They demonstrate laser-incubated immunohaematological testing to be both faster and more sensitive than current best practice, with clearly positive results seen from laser incubations of just 40 seconds.
Clare A. Manderson, PhD, the first author of the study, said, "Giving blood transfusions to people isn't as simple as giving O-negative to anybody. The 'universal donor' of O-negative blood can seriously harm a lot of people, even kill them. The world of pre-transfusion of blood group typing is huge, and it's really important that it's done quickly and accurately to help save lives." The study was originally published online on August 2, 2019, in the journal Scientific Reports.
Related Links:
Monash University
Haemokinesis