Genetics Affect Risk of Developing Factor VIII Inhibitors
By LabMedica International staff writers
Posted on 06 Sep 2019
For severe hemophilia A (HA) patients, the current standard of care includes regular prophylactic infusions of factor VIII (FVIII) products in order to prevent spontaneous bleeds or on demand infusions to treat bleeds.
Many factors, such as patient-, disease- or product-related, could influence the potential risk for immunogenicity of biotherapeutics, but the relative contributions of these factors to the development of neutralizing antibodies is currently not completely understood. Several risk factors of inhibition against FVIII products are well recognized, such as factor VIII gene (F8) mutation type.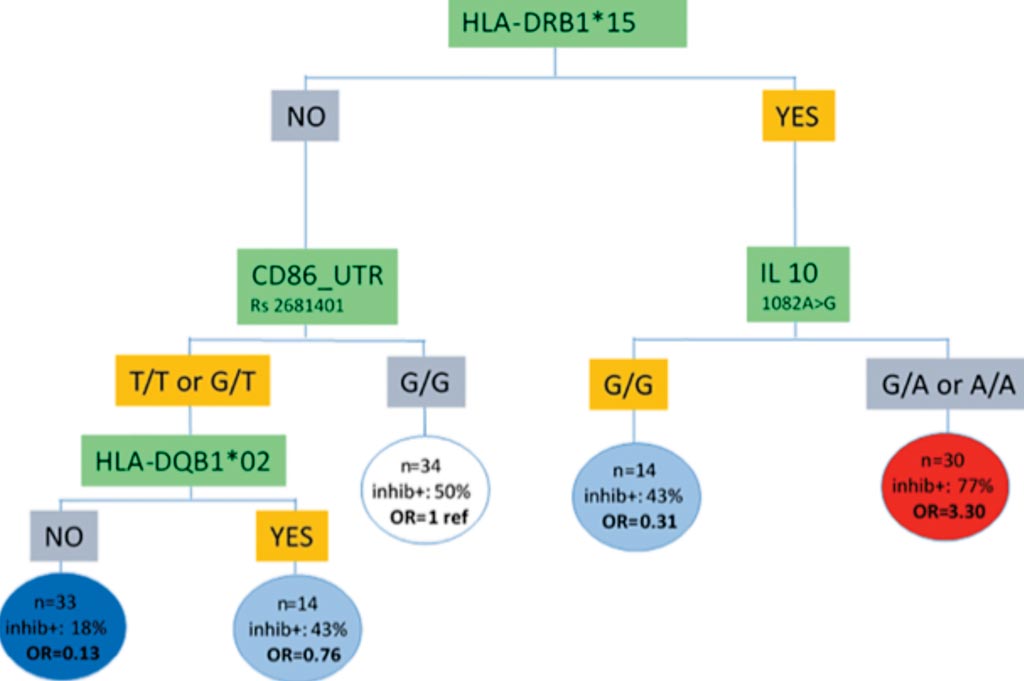 An international group of scientists led by the Paris-Saclay University (Villejuif, France) analyzed data from patients with severe hemophilia A from two German centers in Bonn and Frankfurt, who were recruited for the European ABIRISK tranSMART database. They investigated clinical and genetic components behind factor VIII inhibitors' development, looking specifically to immune-related genes. In all, 593 patients with severe HA from the Bonn database and 79 from the Frankfurt database were included in the present study.
HLA class II (HLA-DRB1, HLA-DQB1) typing was performed by polymerase chain reaction (PCR) sequence-specific primer (SSP) methodology. Single Nucleotide Polymorphism (SNP) variants for IL-10 1082A>G (rs1800896), CTLA4 CT60A>G (rs3087243), TNF 308G>A (rs1800629), CD32 500 A>G (rs1801274), MAPK9 (rs4147385) were genotyped. For the CD86 gene, four biallelic SNPs were investigated: rs2715267 in the promoter region, rs2681417 in the exon 4 region, rs1129055 in the exon 7 region and rs2681401 in the untranslated transcribed region (UTR).
In total, 586 patients from Bonn were analyzed, of which 113 (19%) developed inhibitors, and 79 from Frankfurt, of which 32 patients (41%) developed inhibitors. The analysis revealed that patients from Bonn with a familial history of inhibitor development had 5.94 times higher risk of developing inhibitors, compared to patients without a family history of an immune response against factor VIII. Familial history was not available for the Frankfurt patients. Although not significant in the two centers' data, the team observed that patients with a blood type other than O were 1.46 more likely to develop inhibitors.
On an analysis of in 142 patients from the Bonn database, they showed that patients with a specific HLA haplotype (called HLA-DRB1*15), and with a particular SNP in the IL-10 gene, had higher risk for developing inhibitors. Of 30 patients in this group, 23 developed an immune response against factor VIII. Patients negative for the haplotypes HLA-DRB1*15 and HLA-DQB1*02, and for certain SNPs in the gene, had the lowest risk, with only four of 36 patients within this subgroup developing inhibitors.
The authors concluded that the final optimal hybrid tree-based model distinguishes two groups of patients: a high-risk group for immunogenicity with positive HLA-DRB1*15 and IL-10 genotype G/A and A/A, a low-risk group for immunogenicity with negative HLADRB1*15/ HLADQB1*02 and CD86 genotype T/T and G/T. The study was originally published on June 13, 2019, in the journal PLOS ONE.
Related Links:
Paris-Saclay University