Platelet Volume Related to Geriatric Patient In-Hospital Mortality
By LabMedica International staff writers
Posted on 28 Aug 2019
Treatment of acute coronary syndrome involves inhibition of platelet activity and thrombus formation. Platelets play a significant part during myocardial infarction by enhancing microvascular obstruction and secreting vasoactive peptides.
Platelet reactivity is an important matter, and there is evidence that larger platelet size, measured as mean platelet volume (MPV), is associated with enhanced platelet activity. Higher MPVs are observed in patients with acute coronary syndromes compared with patients with stable angina or normal coronary arteries. Elevated MPV is associated with myocardial infarction and death.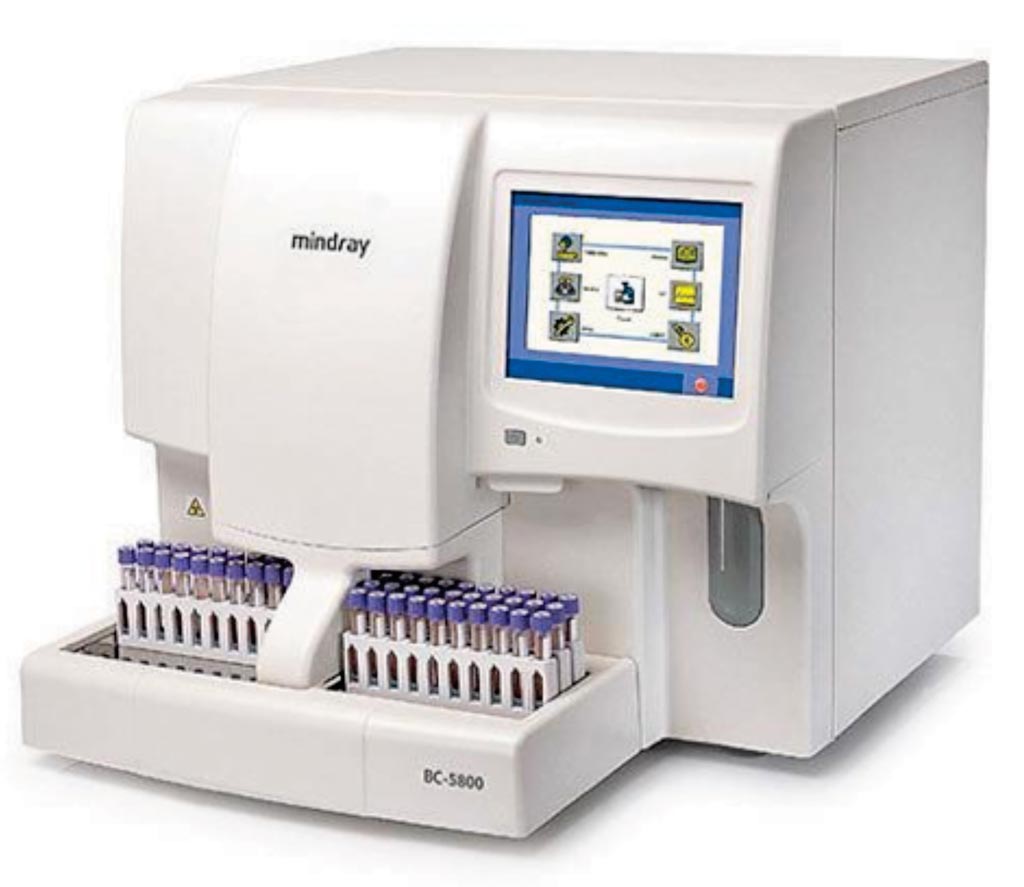 Medical Biochemists and Cardiologists at the Recep Tayyip Erdoğan University (Rize, Turkey) enrolled 194 consecutive ST segment elevation myocardial infarction (STEMI) patients in a retrospective observational study between December 2012 and May 2014. The study population was divided into two groups on the basis of admission MPVs. The 49 patients in the high-MPV group had an MPV in the third tertile (>0.89 fL), and the 145 patients in the low-MPV group had an MPV in the lower two tertiles (≤0.89 fL).
The team collected blood samples in standardized tubes containing dipotassium EDTA, and all measurements were performed by an optical laser method with a Mindray BC-5800 hematology analyzer. High-sensitivity troponin T was quantified with a cobas e 411 analyzer. A 12-lead electrocardiogram was recorded in each patient just after hospital admission, and the myocardial infarction type was obtained from the electrocardiogram.
The scientists reported that patients in the high-MPV group were older, more of them had three-vessel disease, and they had higher in-hospital mortality. Patients with in-hospital death were older, had higher Gensini score, creatinine concentration, and MPV, and had lower high-density lipoprotein (HDL) cholesterol concentration. MPV, age, HDL cholesterol concentration, creatinine concentration, and Gensini score were found to be independent predictors of in-hospital death.
The authors concluded that their results suggest that high admission MPV levels are associated with increased in-hospital mortality in geriatric patients with STEMI undergoing primary percutaneous coronary intervention (PCI). The study was published on July 1, 2019, in the journal Cardiovascular Innovations and Applications.
Related Links:
Recep Tayyip Erdoğan University