Hematology Analyzer Screens for Malaria in Clinical Setting
By LabMedica International staff writers
Posted on 14 Aug 2019
Malaria is a vector-borne infectious disease that continues to have high morbidity and mortality globally. Diagnosis based only on clinical symptoms has very low specificity as there is no combination of symptoms that reliably distinguishes malaria from other causes of fever or influenza.
Light microscopy, malaria nucleic acid amplification (PCR) test and malaria rapid diagnostic tests (RDTs) are used for parasitological diagnosis of malaria. Malaria PCR is not commonly used due to its high cost; RDTs are now more common, but not yet the regular test in non-endemic areas and microscopic examination of stained blood films remains the standard.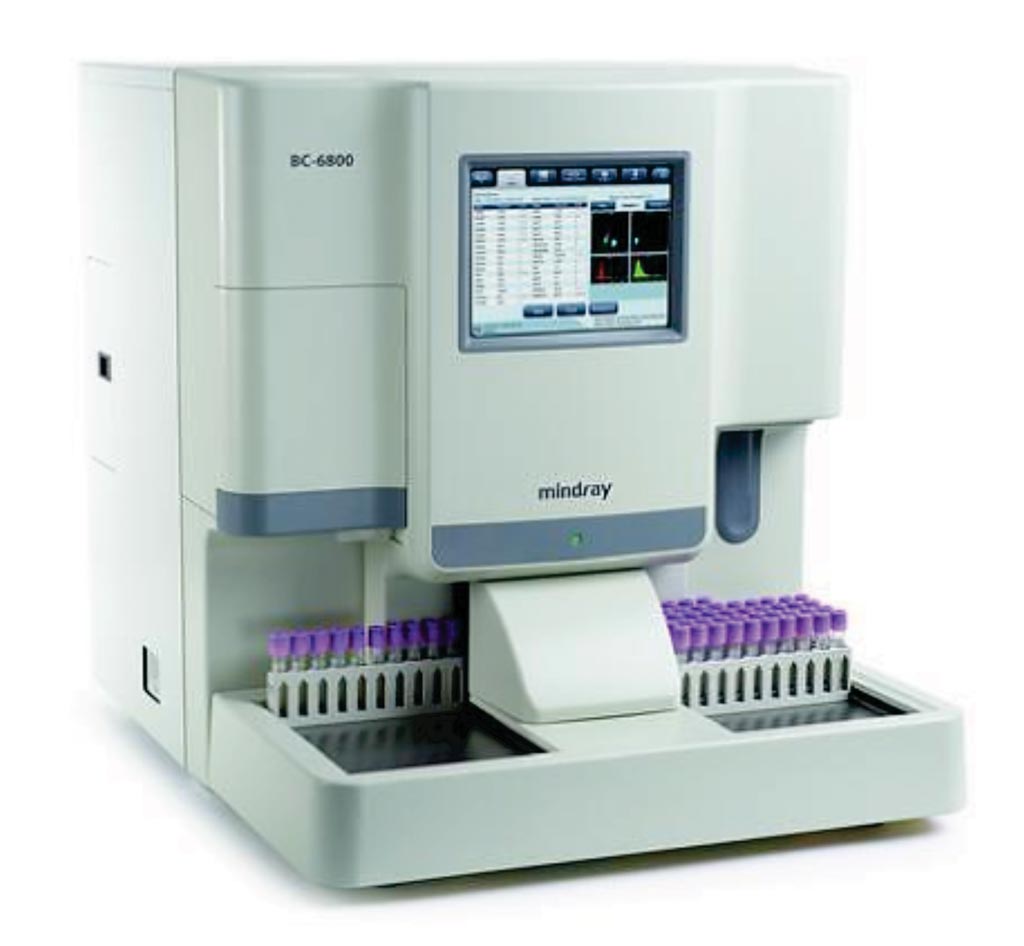 Clinical Laboratory Scientists from the Chinese People's Liberation Army General Hospital (Beijing, China) collected a total of 181 samples, including 117 malaria-infected samples collected from Yunnan, China, and 64 samples from healthy controls. Microscopy examination was conducted as reference when stained thick blood film revealed the presence of malaria parasites identified as Plasmodium vivax and P. falciparum.
The team examined all blood samples using both light microscopy and the BC-6800 hematology analyzer. The BC-6800 hematology analyzer used sheath flow impedance, laser scatter and SF Cube analysis technology. In the BC-6800 differentiating (DIFF) channel, the fluorescent staining technology was adopted after the sample was mixed with DIFF lyse. For samples infected with malaria, RBC and white blood cell (WBC) sub-populations were differentiated by their size and complexity using lysing. The DIFF channel differentiates the sub-populations, including lymphocytes, monocytes, neutrophils, Plasmodium-infected RBC, and eosinophils, as well as identifies and flags abnormal cells such as immature granulocytes, abnormal lymphocytes and blast cells.
The BC-6800 hematology analyzer provides a dedicated flag 'Infected RBC' (InR) and the number of InR (InR#)/the permillage of InR (InR‰) in routine blood testing as a screening tool for malaria in endemic areas. The authors reported that the sensitivity of InR‰ generated by the BC-6800 for P. vivax and P. falciparum was 88.3% and 24.1%, respectively; specificity of InR‰ for malaria parasites was 84.3% and 84.3%, respectively; positive predictive value and negative predictive value was 89.4% and 82.7% for P. vivax, and 52.8% and 60.3% for P. falciparum. There was a strong correlation between the change in the differential WBCs and InR‰. There was also a significant correlation between parasitaemia and InR# in P. vivax-infected samples.
The authors concluded that their findings suggest that the flag 'InR' and the parameters 'InR#/InR‰' provided by the BC-6800 hematology analyzer could be used in malaria-endemic zones, 'Infected RBC' flag could serve as a rapid decision support tool when screening for malaria. The study was published on July 31, 2019, in the Malaria Journal.
Related Links:
Chinese People's Liberation Army General Hospital