High-Res Genotyping Improves Survival for Stem Cell Transplantation
By Labmedica International staff writers
Posted on 25 Apr 2019
Allogeneic hematopoietic cell transplantation (HCT) provides a curative treatment option for individuals with hematologic diseases. Recipients and donors are considered to be compatible or "well matched" if they share a high degree of genetic similarity at their human leukocyte antigen (HLA) loci.
HCT was limited to using HLA-identical related donors. Improved knowledge of the transplant process and therapeutic drug development, coupled with increased resolution of HLA typing and a significantly larger pool of volunteer unrelated donors (VUDs) worldwide, has meant that HCT with a VUD now offers comparable survival.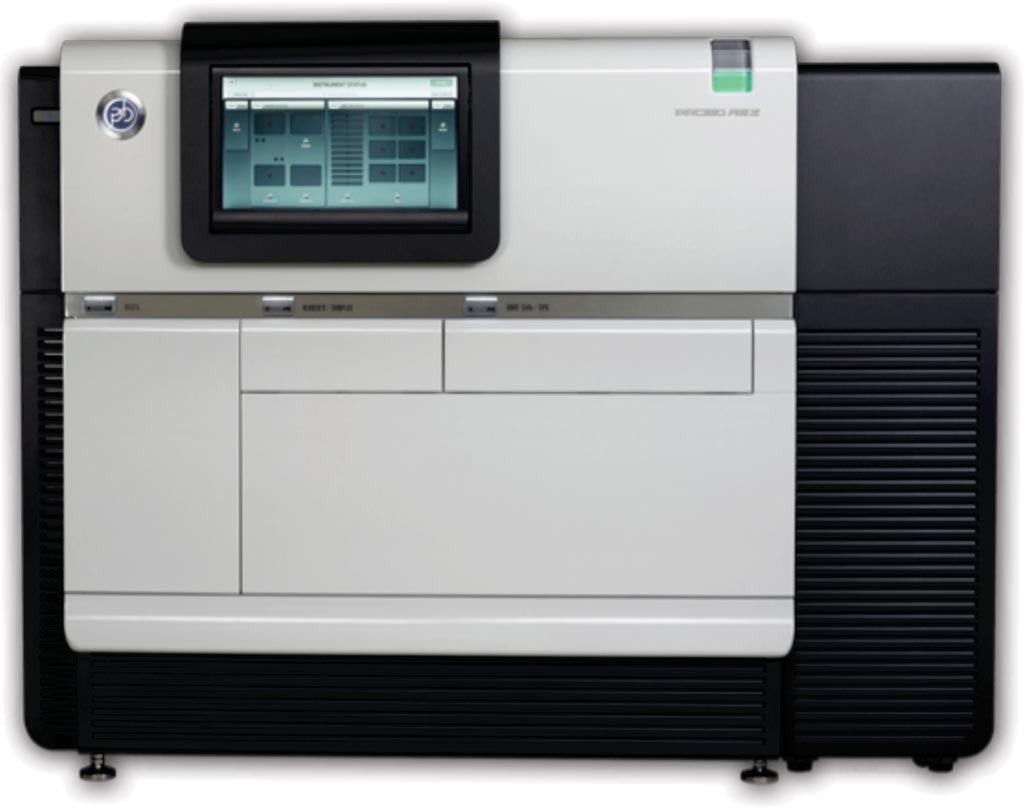 A team of scientists working with the Anthony Nolan Research Institute (London, UK) carried out a large retrospective study consisting of VUD–recipient HCT pairs transplanted between 1996 and 2011. The cohort comprised 891 adult and pediatric patients with hematologic malignancies from 32 UK allogeneic centers were included. Primary outcomes included overall survival (OS), non-relapse mortality (NRM), disease relapse, and acute graft-versus-host disease (aGVHD). Reporting of chronic GVHD follow-up data were insufficient to perform this analysis.
The team used methods of DNA-based HLA typing used previously included sequence specific oligonucleotide probing, Sanger sequencing-based typing, and reference strand-mediated conformational analysis. Retrospective UHR HLA typing of the cohort was performed for the six classic HLA loci using Pacific Biosciences Single Molecule Real-Time sequencing. To determine if there were viable alternatives to a 12/12 ultra-high resolution (UHR) HLA match, they chose to test the HLA-DPB1 T cell epitope (TCE) model of permissible mismatching in this data set.
The scientists reported that of 891 bone marrow donors and their respective, they found that when patients were matched at 12 alleles across six HLA genes, five-year survival was 55% compared to 40% for patients with any degree of mismatch. In addition, they found that 29% of patients who were previously thought to be matched via HLA typing methods that included Sanger sequencing and sequencing-specific oligonucleotide probing, actually had at least one mismatch when they were retrospectively analyzed using long-read sequencing on the Pacific Biosciences RS II platform. And, five-year survival among these patients was also lower at 30%.
Neema P Mayor, PhD, Head of Immunogenetics and lead author of the study, said, "We thought all of these individuals had been well matched, but they were not as well-matched as we had previously thought. Then, when the team analyzed the outcomes, they found that the individuals with mismatches that we didn't know about did significantly worse." The study was published in the March 2019 issue of the journal Biology of Blood and Marrow Transplantation.
Related Links:
Anthony Nolan Research Institute