Unique Genetic Makeup of Myeloma Tumor Cells Profiled
By Labmedica International staff writers
Posted on 17 Dec 2018
Multiple myeloma is the second-most common type of blood cancer. Multiple myeloma occurs when plasma cells in the bone marrow, the cells that produce antibodies, proliferate out of control and lead to various type of organ failure and death.
A major stumbling block, in diagnosing myeloma disease is the fact that each patient is unique and current blood tests are incapable of identifying early disease onset and classifying which patient should receive which treatment. Patients whose routine blood tests reveal some hallmarks of the disease in an early and precancerous stage are followed closely with a "watch and wait" strategy, but every year 1% of them will lose in this "Russian roulette" and develop the full-blown myeloma disease.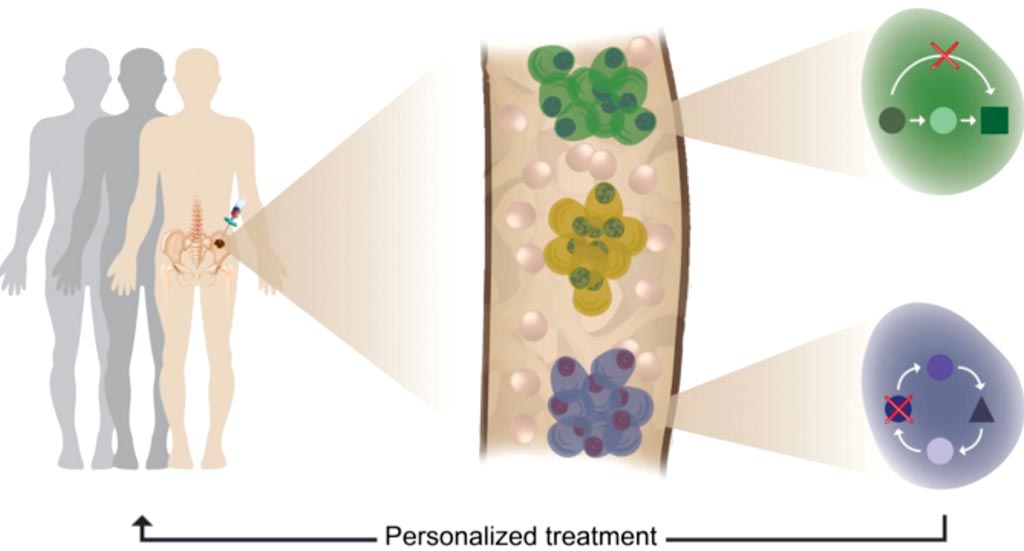 A large team of international scientists collaborating with the Weizmann Institute of Science (Rehovot, Israel) applied single cell RNA sequencing to study the heterogeneity of 40 individuals along the multiple myeloma progression spectrum, including 11 healthy controls, demonstrating high inter-individual variability that can be explained by expression of known multiple myeloma drivers and additional putative factors.
The new method sequences the RNA in thousands of individual cells from the patient blood or bone marrow, identifying the specific gene program that is active in each individual cell. In order to understand the myeloma cancer blueprint, the scientists first generated a high-resolution model of normal plasma cells by sequencing tens of thousands of cells from healthy individuals undergoing hip-replacements who served as a control group.
The plasma cells of the control patients were highly similar within and across individuals, basically showing a single, common blue print of normal plasma cells. Comparing the normal blueprint to the blue prints of patients, showed that the blueprint of myeloma cancer cells are extremely heterogeneous, with every patient showing its own, unique blueprint and with some patients demonstrating several tumor clones displaying more than a single blueprint in one patient.
The investigators identified extensive subclonal structures for 10 of 29 individuals with multiple myeloma. In asymptomatic individuals with early disease and in those with minimal residual disease post-treatment, they detected rare tumor plasma cells with molecular characteristics similar to those of active myeloma, with possible implications for personalized therapies. Single cell analysis of rare circulating tumor cells allows for accurate liquid biopsy and detection of malignant plasma cells, which reflect bone marrow disease.
Ido Amit, PhD, an immunologist and a leading author of the study, said, "Single cell genomic analysis until now was confined to a small number of research labs, we are constantly pushing the boundaries of the technology in ways that will make it a major clinical discovery and diagnostics tool." The study was published on December 6, 2018, in the journal Nature Medicine.
Related Links:
Weizmann Institute of Science