Biomarker Identified for Novel Asthma Treatment
By Labmedica International staff writers
Posted on 17 Sep 2018
Asthma is a widespread chronic airway disease characterized by airway obstruction, inflammation, and hyperresponsiveness. Symptoms such as bronchoconstriction and cough range from mild intermittent to severe persistent.
In eosinophilic asthma, the most common form of asthma, eosinophils in the airway alter nerve function and exacerbate the disease. However, whether eosinophils also affect airway nerve structure is unclear. In type 2-high asthma, interleukin-5 (IL-5) promotes eosinophil maturation, recruitment, and survival.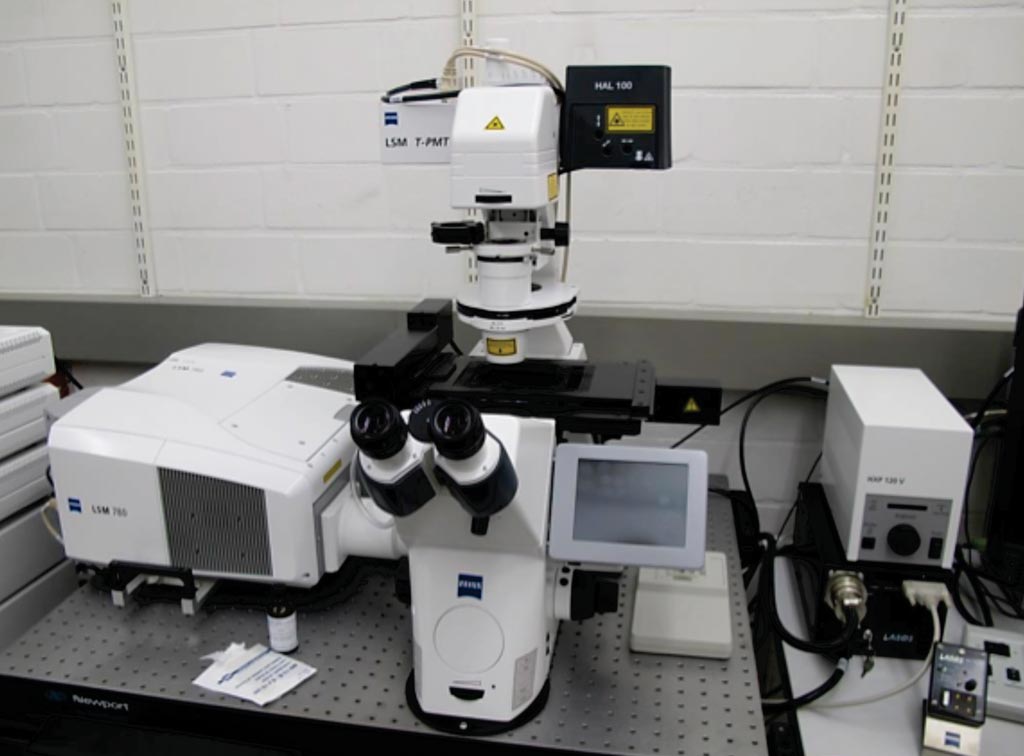 An international team of scientists working with the Oregon Health and Science University (Portland, OR, USA) evaluated airway sensory innervation and eosinophilia in humans with and without asthma and to characterize the physiologic consequences of eosinophil and airway nerve interactions using transgenic mice. Patients over the age of 17 were recruited and medication use, pulmonary function testing, blood eosinophil counts, serum immunoglobulin E (IgE) levels, and smoking history were obtained.
Human bronchial biopsies (three to five per subject) were taken from the bifurcation of the right middle lobe and immediately fixed in formalin overnight. Tissues were immunostained at 4 °C on a shaker. Airway nerves were labeled with rabbit polyclonal antibody against pan-neuronal marker PGP9.5 (protein gene product 9.5), and other immunostaining was performed and images were acquired using a Zeiss LSM 780 confocal microscope.
The scientists reported that subjects with a type 2-high asthma phenotype, defined as blood eosinophils greater than 300 cells/μL, had longer airway nerves and increased nerve branch points compared to control airways. In contrast, nerves in type 2-low asthmatics with blood eosinophils less than 300 cells/μL were not significantly different from healthy subjects. The mean blood eosinophils counts were 182 ± 93 μL in the 19 controls; 277 ± 289/μL in the 13 intermittent asthma patients; and 301 ± 225/μL in the persistent asthma sufferers. Moderate persistent asthmatics had increased eosinophil peroxidase both above and below the epithelial basement membrane compared to mild intermittent asthmatics and control subjects.
The authors concluded that their data indicated that airway nerves contribute to asthma pathology. They have shown that moderate persistent asthmatics have increased airway sensory innervation that is especially marked in asthmatics with accompanying eosinophilia. Richard W. Costello, MB, MD, FRCPI, a professor and a senior author of the study, said, "We identified that inflammatory cells, in particular, eosinophils, promote airway nerve growth in patients with asthma. These observations provide a unique insight into a fundamental mechanism of how the inflammation caused by asthma causes people to experience the symptoms of asthma such as coughing and breathlessness. This means that we now know which markers to look for in a patient with severe asthma. A patient with markers which show they have this particular form of asthma is likely to respond well to these new treatments." The study was published on September 5, 2018, in the journal Science Translational Medicine.
Related Links:
Oregon Health and Science University