Novel Device Contributes to Positive Phlebotomy Experience
By Labmedica International staff writers
Posted on 30 May 2018
Phlebotomy is a necessary procedure that may be a source of pain, stress and anxiety for some patients. While smaller gauge needles are known to lessen patient discomfort, they are often associated with increases in hemolysis or longer tube fill times.
A push button blood collection set has been engineered to minimize patient discomfort during blood collection. This device was evaluated for blood collection and allows clinicians to use a smaller gauge for easier access to small, difficult veins, without compromising tube fill time and sample quality.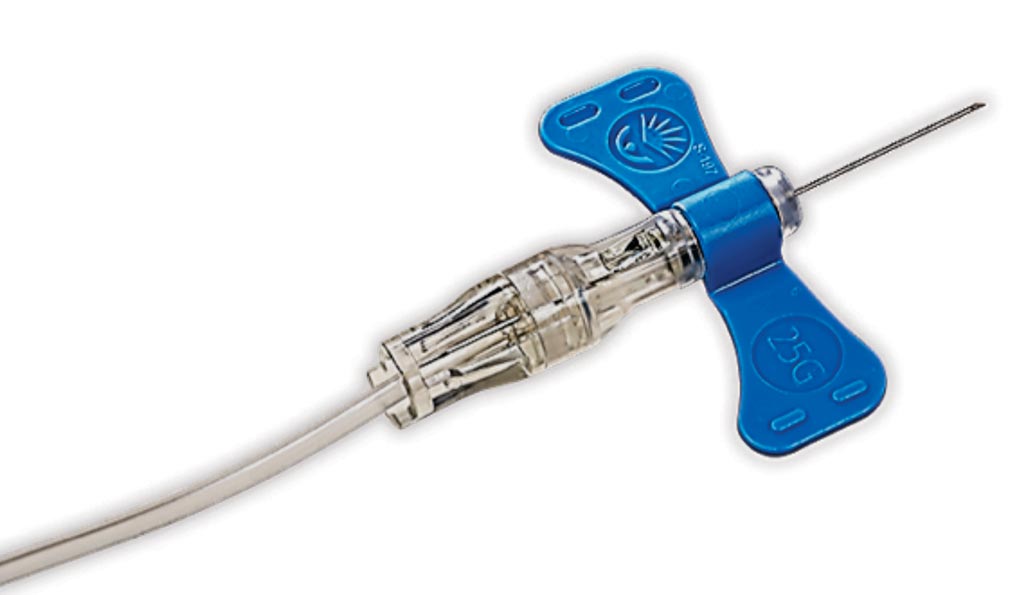 Scientists from BD Life Sciences (Franklin Lakes, NJ, USA) conducted two studies with 214 subjects to compare pain and anxiety regarding future phlebotomy with three devices. Another study with 52 subjects assessed hemolysis in specimens collected with the two devices; bench testing evaluated tube-filling times with these devices.
The investigators evaluated the effect of a 5-bevel, 25-gauge blood collection set (BCS) with ultra-thin wall cannula (BD Vacutainer UltraTouch Push Button BCS (UltraTouch) on patient pain and anxiety compared with two 3-bevel, thin-wall, 23-gauge BCSs (BD Vacutainer Safety-Lok (Safety-Lok) and Greiner Bio-One Vacuette (Greiner, Kremsmünster, Austria). Hemolysis was evaluated visually, by Hemolysis Index and hemolysis-sensitive indicators potassium (K) and lactate dehydrogenase (LDH).
In a direct comparison with the BD Vacutainer UltraTouch blood collection set and traditional 23-gauge blood collection wingsets, the 25-gauge UltraTouch push button blood collection set demonstrated a statistically significant, 40% decrease in patient perceptions of insertion pain and 47% decrease in overall pain during blood collection, respectively. In addition, the study showed that the 25-gauge UltraTouch blood collection set did not increase hemolysis or increase tube filling times, in comparison to a traditional 23-gauge blood collection set. There was no significant difference in anxiety regarding future phlebotomy. No increase was observed in Hemolysis Index, K or LDH. Tube-filling times were comparable for each device.
The authors concluded that the 25-gauge UltraTouch provided less overall pain compared with the 23-gauge Vacuette, less pain upon needle insertion than the 23-gauge Safety-Lok, and no compromise in specimen quality or flow rate. The study was originally published in the July 2017 issue of The Journal of Applied Laboratory Medicine and was recently updated by Becton Dickinson.