Telomere Length Test Influences Treatment Decisions
By Labmedica International staff writers
Posted on 13 Mar 2018
Telomeres protect the ends of DNA and they normally shorten with aging. They are made up of repetitive sequences of DNA, and normal telomeres have enough length to withstand the erosion that occurs over the normal lifespan of a cell.
Cells with very short telomeres may thrust through these endcaps more quickly and this can lead to specific diseases. In addition to pulmonary fibrosis and bone marrow failure, people with short telomeres are prone to developing emphysema, liver disease, myelodysplastic syndrome and other cancers.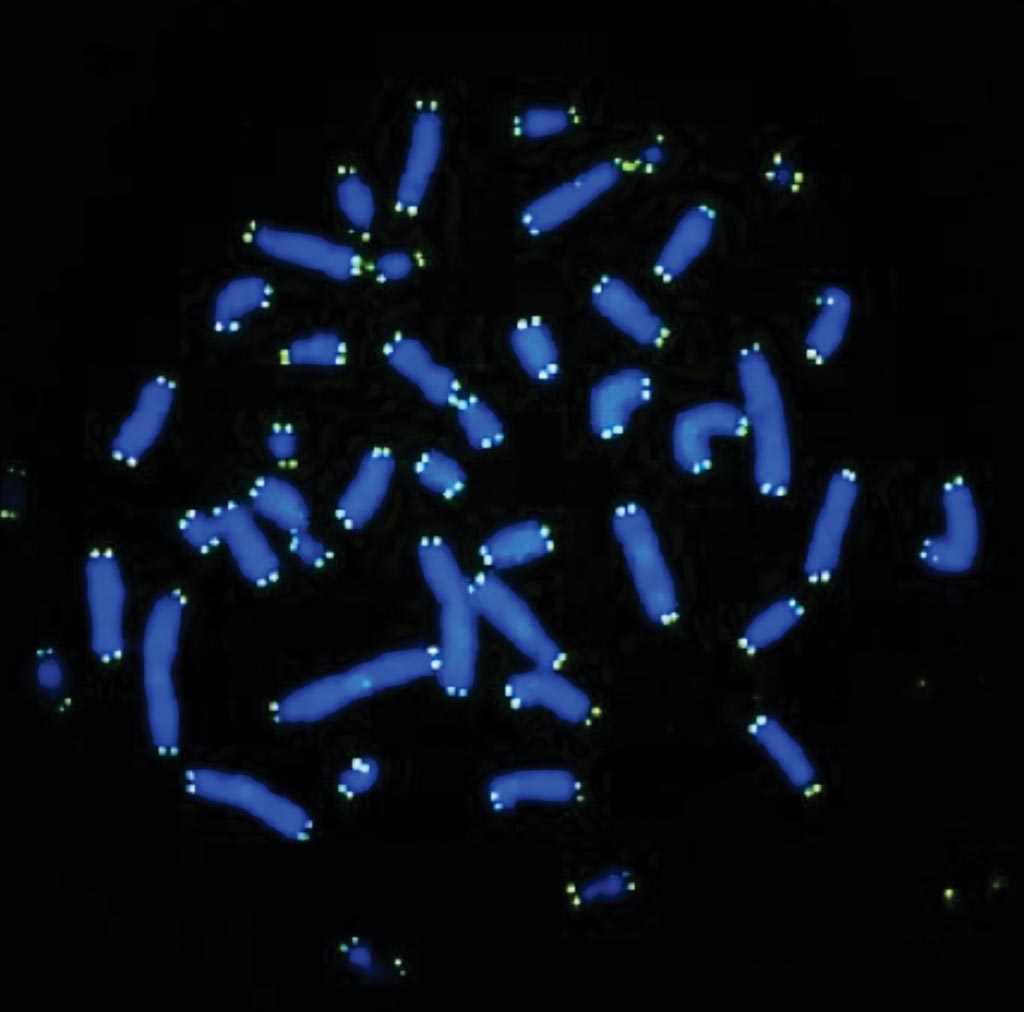 Scientists led by those at Johns Hopkins Medicine (Baltimore, MD, USA) and their colleagues measured telomere length (TL) in 100 people from 60 families who are known to carry mutations in genes linked to telomeres and their associated enzyme, telomerase. Among them, 73 had symptoms of diseases associated with short telomeres, and 27 had no symptoms. Of the 73, the 21 with bone marrow failure were, on average, three decades younger than the 41 who had pulmonary fibrosis or emphysema. In addition, among 38 children and adult patients with bone marrow failure due to an unknown cause were also seen.
The team used the flow cytometry and fluorescence in situ hybridization (flow-FISH) test, which specifically measures the telomere length in each cell within a patient's blood sample. DNA was extracted from peripheral blood using a PureGene Blood Core Kit. Mutations were detected by either polymerase chain reaction (PCR) amplification and Sanger sequencing, whole-exome sequencing, whole-genome sequencing, or custom amplicon sequencing followed by confirmation with Sanger sequencing.
The investigators found the TL had a discrete and reproducible normal range with definable upper and lower boundaries. While TL above the 50th age-adjusted percentile had a 100% negative predictive value for clinically relevant mutations, the lower threshold in mutation carriers was age-dependent, and adult mutation carriers often overlapped with the lowest decile of controls. The extent of telomere shortening correlated with the age at diagnosis as well as the short telomere syndrome phenotype.
Extremely short TL caused bone marrow failure and immunodeficiency in children and young adults, while milder defects manifested as pulmonary fibrosis-emphysema in adults. The team prospectively examined whether TL altered treatment decisions for newly diagnosed idiopathic bone marrow failure patients and found abnormally short TL enriched for patients with mutations in some inherited bone marrow failure genes, such as Runt Related Transcription Factor 1 (RUNX1), in addition to telomerase and telomere maintenance genes.
Mary Armanios, MD, a professor of oncology and a senior co-author of the study said, "Our goal was to establish a clinically reliable tool for telomere length measurement in a hospital setting and make it available to physicians and their patients for precise diagnosis and treatment recommendations. Typical clinical findings and current tests are not likely to identify most patients with very short telomeres, so, there is a need for molecular tests to diagnose this condition, especially since these patients in hospital or clinical settings are more susceptible to side effects of routine medications and procedures." The study was published on February 20, 2018 in the journal Proceedings of the National Academy of Sciences.
Related Links:
Johns Hopkins Medicine