FDA Approves New Diagnostic Tool for Leukemias and Lymphomas
By Labmedica International staff writers
Posted on 11 Jul 2017
A test for use with flow cytometry to aid in the detection of several leukemias and lymphomas, including chronic leukemia, acute leukemia, non-Hodgkin lymphoma, myeloma, myelodysplastic syndrome (MDS) and myeloproliferative neoplasms (MPN) has been authorized.
Leukemia is a cancer of the blood that originates in immature leukocytes, which crowd out the healthy blood cells in the bone marrow. Leukemia occurs most often in adults older than 55 years, but it is also the most common cancer in children younger than 15 years. Lymphoma is a cancer that begins in the cells of the lymph system, a part of the immune system that helps the body fight infection and disease.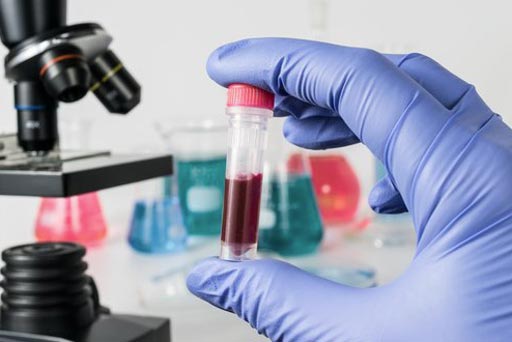 The US Food and Drug Administration (FDA, Silver Springs, MD, USA) reviewed data for the test through the de novo premarket review pathway, a regulatory pathway for novel, low-to-moderate-risk devices that are not substantially equivalent to an already legally marketed device. Its authorization was supported by a study designed to demonstrate the test's performance, which was conducted on 279 samples at four, independent clinical sites. The study compared the test's results to alternative detection methods used by the clinical sites. The study showed that the results of the test aligned with the study site's final diagnosis 93.4% of the time and correctly detected that there was a cancer presence 84.2% of the time.
The ClearLLab test reagents are used to detect cancerous cells in blood, bone marrow and lymph nodes, and it also provides laboratories and clinicians with information about what type of leukemia or lymphoma is present. It works by marking proteins found on the surface of cells with fluorescent dyes for further analysis on an instrument known as a flow cytometer. Users of the new test are advised that results must be reviewed by a trained professional. The FDA granted market authorization of ClearLLab Reagents (T1, T2, B1, B2, and M) to Beckman Coulter, Inc.
Along with this authorization, the FDA is establishing criteria, called special controls, which clarify the agency's expectations in assuring the test's accuracy, reliability and clinical relevance. These special controls, when met along with general controls, provide reasonable assurance of safety and effectiveness for the ClearLLab Reagents and similar tests used to aid in the diagnosis of leukemias and lymphomas. The special controls also describe the least burdensome regulatory pathway for future developers of similar diagnostic tests for leukemias and lymphomas.
Alberto Gutierrez, PhD, Director of the Office of In Vitro Diagnostics and Radiological Health in the FDA's Center for Devices and Radiological Health., said, "This represents a major step forward for the hematology-oncology community. Laboratories and health care professionals now have access to an FDA-validated test that provides consistent results to aid in the diagnoses of these serious cancers."
Related Links:
US Food and Drug Administration