Fully Automated Coagulation System Launched
By Labmedica International staff writers
Posted on 04 Jul 2017
Coagulation tests measure the blood's ability to clot and clotting disorders may be a sign of liver disease, thrombophilia (excessive clotting), or hemophilia (inability to clot normally). Coagulation tests are also performed to monitor patients who are taking medications that can affect clotting.
These clotting test aid physicians in assessing the patients' risk of excessive bleeding or clotting and in determining the patient care pathway. Delays in coagulation testing are often related to sample errors and manual errors in the testing process. A coagulometer is the medical laboratory analyzer used for testing of the hemostasis system.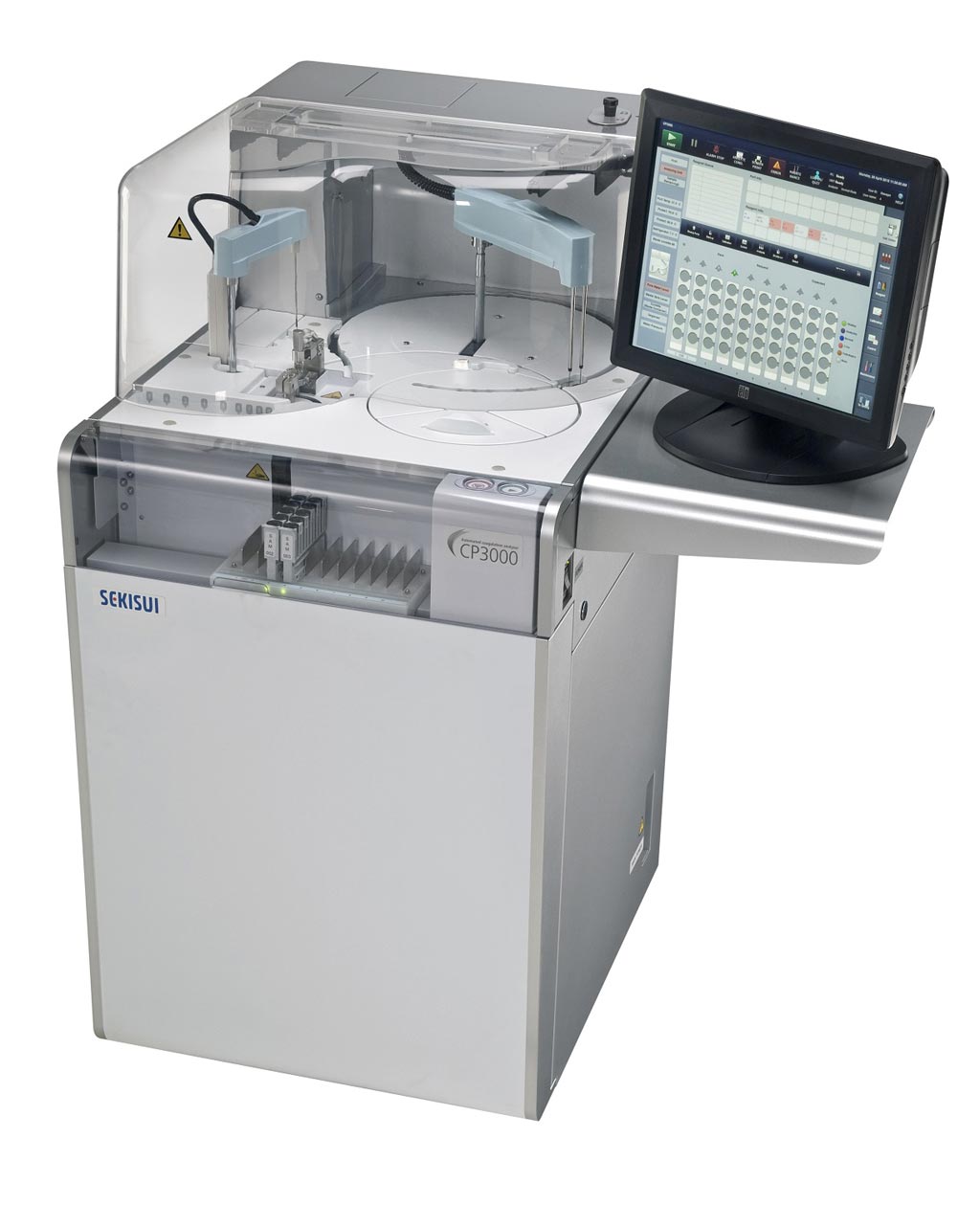 The CP3000 coagulation system features small sample volume requirements, and offers high throughput in a compact footprint. With a broad assay menu and rapid result turnaround time, the CP3000 coagulation system can meet the workflow needs of laboratories of all sizes, while providing high quality and reliable results. The system offers an expanded menu of barcoded reagents to reduce data entry errors. With a unique ability to visualize and automate Mixing Studies, the CP3000 coagulation system can help clinicians quickly interpret results.
The system also connects to the ACCELERATOR a3600 (Abbott, Abbott Park, IL, USA) automation track, which provides additional flexibility to meet the needs of the laboratory. The CP3000 coagulation system seamlessly integrates with Abbott's suite of informatics solutions, which help accelerate efficiency in high test volume laboratories where resources may be limited and space and time is at a premium. Capabilities like Abbotts AlinIQ informatics and service offerings streamline operations and provide intelligent laboratory insights through common reporting and dashboard views make it easy for healthcare providers to read and interpret patient results.
Dr. Chandra Poonam, laboratory director of the Gulf Diagnostic Center Hospital said, "The CP3000 coagulation system has been a great addition to our lab. It does not occupy a lot of space, and its automated processes and user-friendly design have reduced the burden on our lab staff and pathologists. We have been pleased with how quickly the system produces accurate results that are used to guide treatment decisions for our patients."