Next-Generation Hematology Analyzer Introduced
By Labmedica International staff writers
Posted on 04 Jul 2017
Hematology is a medical specialty dedicated to studying the physiology of blood, and the cause, diagnosis, treatment, and prevention of diseases related to blood. In diagnostics testing, hematology tests look at blood composition, which includes the identification and quantification of different types of blood cells.
The Alinity hq analyzer (Abbott, Abbott Park, IL, USA) for hematology is now CE Marked and available in Europe and other countries that recognize CE Mark. The analyzer is the first in the Alinity hematology series of instruments to be commercially released, and is part of the planned integrated hematology system designed to address the productivity needs of the high-volume laboratory. The Alinity hq was built from the ground up to help solve every day operational challenges and anticipated future needs for high-volume laboratories.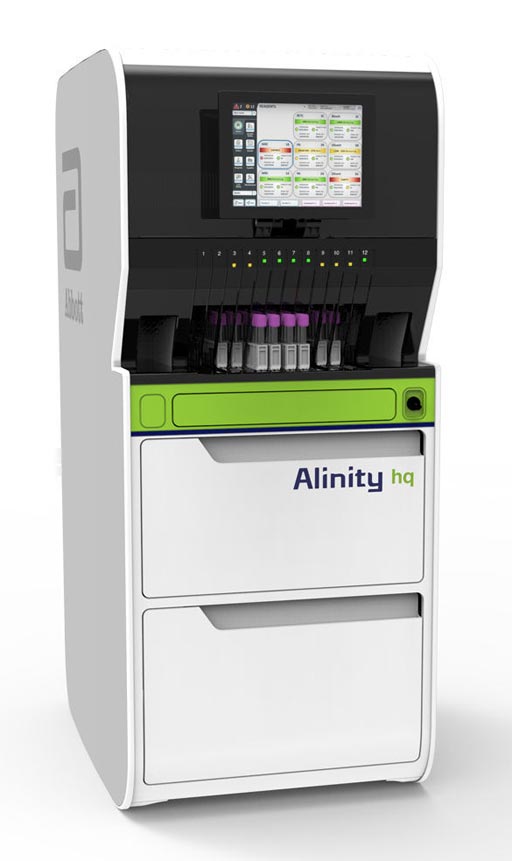 Some unique capabilities of the Alinity hq system include: Innovative, advanced optical technology combined with robust algorithms to handle normal and pathological samples. Design features that are intended to reduce manual steps and minimize errors, improve confidence in data and allow for uninterrupted operation and scalable, modular design to customize configurations to better serve a broad spectrum of laboratories.
As part of the Alinity family of harmonized systems, the Alinity hq analyzer has an intuitive user interface with iconography, color coding and reporting features shared by all Alinity instruments. The Alinity family also uses a common method for sample loading and reagent management, which helps laboratories simplify technician training. The Alinity portfolio includes clinical chemistry, immunoassay, blood and plasma screening, point of care, hematology and molecular diagnostics.
Luis de Luzuriaga, divisional vice president and general manager for Abbott's hematology business, said, "The Alinity hq launch is a key milestone for Abbott's hematology business unit. Abbott is leading the way to providing a more efficient, complete laboratory solution that no competitor in the industry can match. With the Alinity family of harmonized systems, Abbott aims to simplify diagnostics testing across laboratory disciplines and help our customers improve patient outcomes."