Mutation Identified as Genetic Marker for Multiple Sclerosis
By Labmedica International staff writers
Posted on 17 Mar 2015
A mutation in the serine-threonine kinase 11 (STK11) gene, which encodes the enzyme liver kinase b1 (LKB1), was shown to be a risk factor for development of multiple sclerosis (MS).
STK11 gene encodes a member of the serine/threonine kinase family and thereby regulates cell polarity while functioning as a tumor suppressor. Mutations in this gene have been associated with Peutz-Jeghers syndrome, an autosomal dominant disorder characterized by the growth of polyps in the gastrointestinal tract, pigmented macules on the skin and mouth, and other cancerous growths.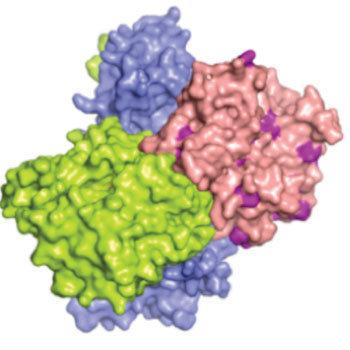 A serendipitous conversation led investigators at the University of Illinois at Chicago (USA) to apply advanced DNA sequencing tools to study a family whose female members had a high prevalence for both MS and Peutz-Jeghers syndrome.
Sequence analysis of total DNA from one sister from a family with five daughters suffering from MS identified a single-nucleotide polymorphism (SNP) within STK11 intron 5. This SNP (rs9282860) was then identified by Life Technologies (Carlsbad, CA, USA;) TaqMan polymerase chain reaction (PCR) assays in DNA samples available from two other siblings. Further screening was carried out on samples from 654 relapsing-remitting MS patients, 100 primary progressive MS patients, and 661 controls. Results revealed that the STK11-SNP had increased frequency in all female MS patients versus controls.
The STK11-SNP was not associated with disease duration or onset; however, it was significantly associated with reduced severity. In vitro studies showed that peripheral blood mononuclear cells from members of the family were more sensitive to the mitochondrial inhibitor metformin than cells from MS patients with the non-mutated STK11 allele. Thus, the increased association of SNP rs9282860 in women with MS defined this variant as a genetic risk factor.
"The variant occurs almost twice as often among women with MS as in women without the disease, making it one of the strongest genetic risk factors for MS discovered to date," said senior author Dr. Douglas Feinstein, professor of anesthesiology at the University of Illinois at Chicago. "The STK11 SNP is present in about 7% of the general population. But because far fewer people develop MS, other genetic or non-genetic factors must play a role in the development of the disease."
The report was published in the February 18, 2015, online edition of the journal
ASN NEURO.

Related Links:
University of Illinois at Chicago
Life Technologies
Other channels