Breakthrough Immunoassays to Aid in Risk Assessment of Preeclampsia
By LabMedica International staff writers
Posted on 10 Aug 2023
Preeclampsia is a life-threatening blood pressure condition that can arise during pregnancy and the postpartum phase. This severe pregnancy complication is a primary cause of maternal and fetal mortality and morbidity globally. In a significant advancement, two novel assays are now available for use with other lab tests and clinical evaluations to assist in evaluating the risk of pregnant women, already admitted for hypertension-related pregnancy disorders, developing severe preeclampsia within the upcoming two weeks.
Thermo Fisher Scientific Inc. (Waltham, MA; USA) has been granted clearance by the U.S. Food and Drug Administration (FDA) for its novel biomarkers, Thermo Scientific B·R·A·H·M·S PlGF plus KRYPTOR and B·R·A·H·M·S sFlt-1 KRYPTOR. These are the first and only immunoassays to secure breakthrough designation and clearance for preeclampsia risk evaluation and treatment. The PRAECIS study, which validated the efficacy of these blood-based biomarkers in the detection of the development of severe preeclampsia, was conducted across 18 U.S. hospitals and involved over 700 expectant mothers nationwide. Women exhibiting a positive result based on the risk ratio of both assays (sFlt-1/PlGF ratio ≥ 40) can benefit from enhanced surveillance and accelerated care ahead of the onset of severe symptoms.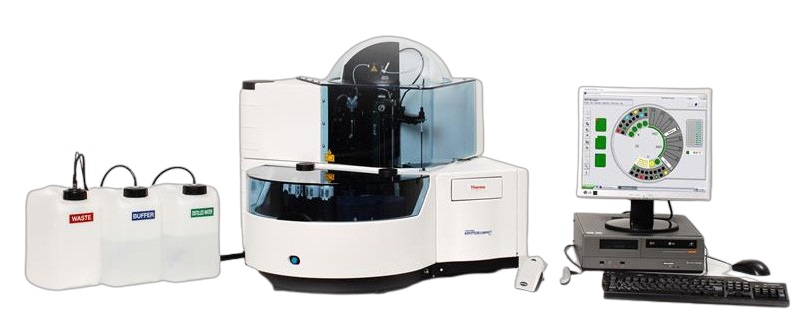 The assays are designed to run on the Thermo Scientific B·R·A·H·M·S KRYPTOR compact PLUS clinical chemistry analyzer which uses Nobel Prize-winning TRACE chemistry technology to deliver results in under 30 minutes. The FDA clearance and availability of these pioneering biomarker tests empower healthcare professionals to improve their management of the condition and enhance outcomes for mothers and their babies. Both patients and medical providers stand to gain from these improved diagnostic tools that can predict the onset of severe preeclampsia, particularly in cases at risk of severe, early-onset disease or for women with diagnostic uncertainty.
"Thermo Fisher is committed to advancing diagnostic solutions for reproductive health as part of our broader Mission to enable our customers to make the world healthier, cleaner and safer," said Alan Sachs, chief medical officer at Thermo Fisher Scientific. "Today's clearance of these breakthrough biomarkers will have a significant impact on prognosis and treatment for thousands of women at risk for preeclampsia every year in the U.S."
Related Links:
Thermo Fisher Scientific Inc.