Urine Test for Monitoring Changes in Kidney Health Markers Can Predict New-Onset Heart Failure
By LabMedica International staff writers
Posted on 02 Aug 2023
Heart failure, a condition that will affect one in five individuals during their lifetime, is significantly associated with kidney impairments. As such, monitoring kidney health indicators in individuals susceptible to heart failure is standard practice. While short-term fluctuations in renal biomarkers are well-established, the link between long-term biomarker patterns and heart failure risk is yet to be understood. Now, researchers have discovered a key treatment target that could potentially prevent patients from developing serious heart conditions in the future.
In a new study, an international research team led by Osaka University (Suita, Japan) has successfully identified long-term trends in kidney health indicators among healthy European adults, and how these patterns influence the risk of new-onset heart failure. The research involved the examination of two prevalent kidney health markers—urinary albumin excretion (UAE) and serum creatinine—in nearly 7000 participants from the Dutch study Prevention of Renal and Vascular End-stage Diseases (PREVEND). The team monitored the trends in UAE and serum creatinine levels over an 11-year period, investigating their correlation with new-onset heart failure and death.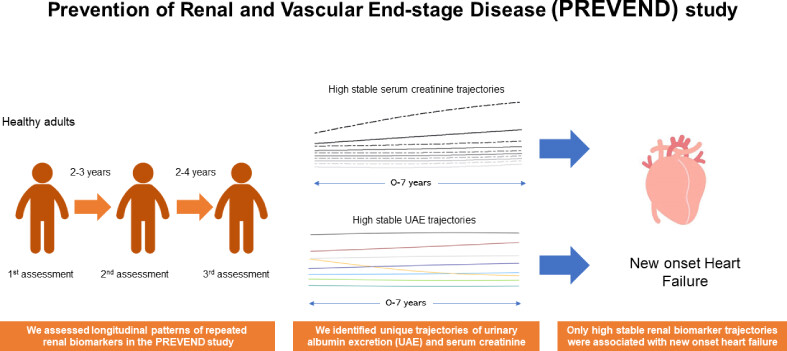 The study clearly revealed that the majority of participants exhibited stable low UAE or serum creatinine levels, but those with consistently high UAE were at a significantly increased risk of new-onset heart failure or all-cause mortality. Interestingly, annual levels of renal biomarkers remained notably stable year after year throughout the 11-year follow-up period. Stable serum creatinine levels over time correlated with heart failure, but not with an elevated risk of death. A more in-depth analysis revealed that individuals with consistently higher UAE or serum creatinine levels were more likely to be older, male, and to have conditions like diabetes, previous heart attack, or dyslipidemia. The study implies that reducing UAE could help decrease the risk of future heart failure and death in these patients. Given that heart failure is likely to affect one in five people during their lifetime, these findings could significantly influence preventive medicine and further validation of these results is required in non-European populations.
"Our results highlight the importance of the heart-kidney link in heart failure by showing that patients with persistently worse renal function, as indicated by higher UAE or serum creatinine levels, are at a higher risk of heart failure or mortality," said Dr. Ryoto Sakaniwa, lead author of the study. "Reducing these renal biomarkers could help prevent heart failure."
Related Links:
Osaka University