Biosensor-Fabricated Wooden Tongue Depressor Measures Glucose and Nitrite in Saliva
By LabMedica International staff writers
Posted on 26 Apr 2023
Physicians often use tongue depressors to examine a patient's mouth and throat. However, it is hard to imagine that this simple wooden tool could actively assess a patient's health. This idea has led to the development of an eco-friendly disposable sensor that can measure glucose levels and other biomarkers in saliva.
Researchers at National and Kapodistrian University of Athens (NKUA, Athens, Greece) have created this easy-to-produce device, which they believe could eventually help doctors diagnose various conditions. Wood is an attractive option for electronics and sensor design due to its renewable, biodegradable, and low-cost nature. However, its poor electrical conductivity poses challenges. One solution is to use wood as a passive substrate and coat it with metal and carbon-based inks. Another approach involves using high-power lasers to char specific regions of the wood, turning them into conductive graphite.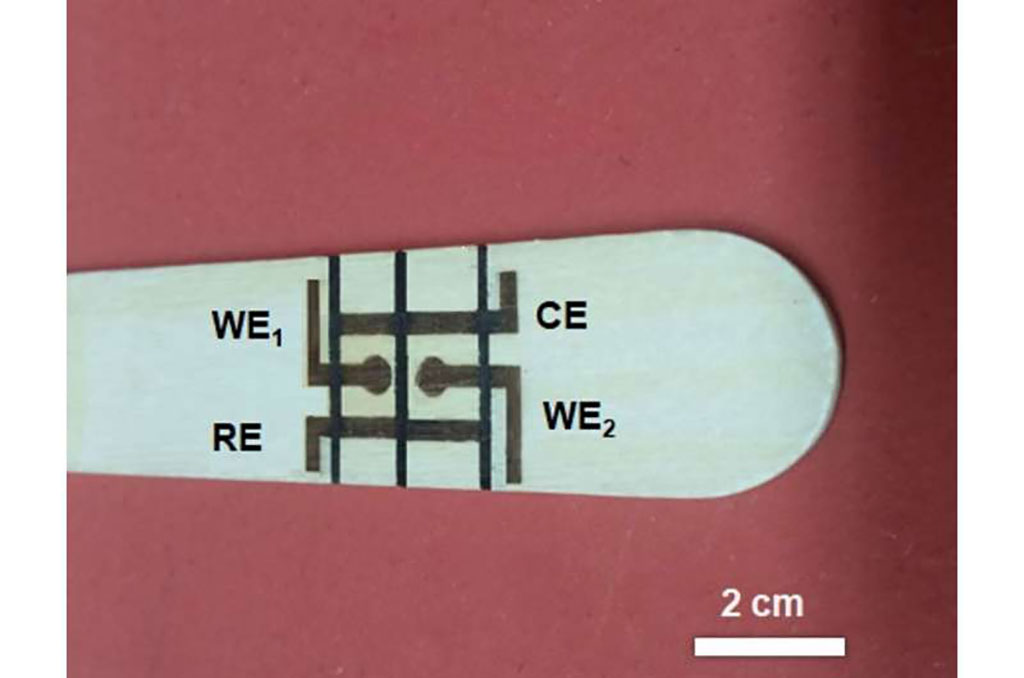 However, this complex technique requires advanced, costly instrumentation, an oxygen-free environment, and fire retardants. To create a more affordable and straightforward process, the researchers employed low-power diode lasers. These lasers have successfully been used to make polyimide-based sensors but have not previously been applied to wooden electronics and electrochemical sensors. The team utilized a portable, low-cost laser engraver to generate a pattern of conductive graphite electrodes on a wooden tongue depressor without the need for special conditions. These electrodes formed two electrochemical cells separated by lines drawn with a water-repellent permanent marker.
The biosensor was then used to quickly and simultaneously measure nitrite and glucose concentrations in artificial saliva. Nitrite can indicate oral diseases like periodontitis, while glucose can serve as a diagnostic for diabetes. The researchers suggest that these low-cost devices could be adapted to detect other saliva biomarkers and could be easily and rapidly produced on-site at medical facilities.
Related Links:
NKUA