Strip-Type Urine Sensor Diagnoses Cancer Quickly and With High Sensitivity
By LabMedica International staff writers
Posted on 15 Feb 2023
Various blood tests, radiological methods and histological analysis are currently used to diagnose cancer. Annual health checkups can also reveal the presence of cancer, although the disease is mostly detected after it has advanced considerably, resulting in delayed treatment or death. Now, a research team has developed a strip-type urine sensor that can amplify the light signal of metabolites in urine to help diagnose cancer.
The technology developed by researchers at Korea Institute of Materials Science (KIMS, Gyeongsangnam-do, South Korea) could find application in screening for prostate cancer and pancreatic cancer by irradiating light using a small volume (10uL) of urine taken at the time of the test without the need for any additional analysis process. The test device is in the form of a strip that allows cancer to be diagnosed quickly and with high sensitivity. As a biological sample, urine can be easily obtained, making the test more accessible. The urine-based diagnosis method could be used for on-site rapid cancer screening or as recurrence monitoring technology following treatment of cancer patients. Additionally, the strip-type sensor has a low manufacturing cost that will allow it to be used for mass consumption.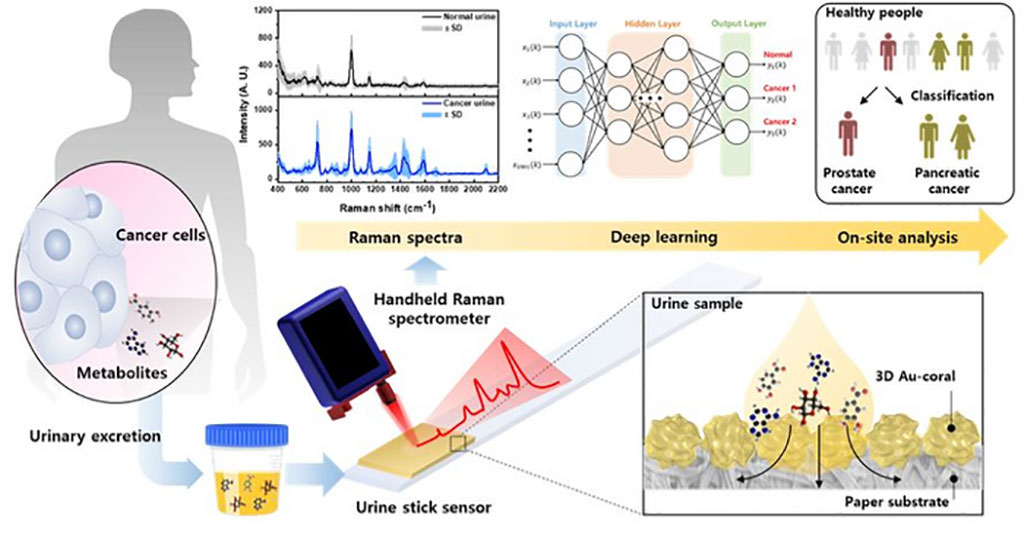 The research team developed the strip-type sensor by focusing on the metabolomic components present in the urine of cancer patients and normal people. In cancer patients, proliferating cancer cells secrete various metabolites into urine owing to abnormal metabolism. Classifying these metabolites in urine using existing technology requires large and expensive equipment, thus limiting its on-site application. In order to overcome this challenge, the researchers developed a surface-enhanced Raman scattering sensor that amplifies the optical signal of metabolites in urine by more than one billion times. When the urine sample is dropped into the sensor and light is irradiated, the cancer metabolite signals tend to become amplified on the surface of the sensor, enabling the diagnosis of cancer. Upon applying an artificial intelligence (AI)-based analysis method to the acquired spectral signal, the researchers were able to identify up to 99% of prostate cancer and pancreatic cancer patients.
"In the case of cancers where the diagnosis method is not well known, such as pancreatic cancer, it is difficult to detect and the survival rate after initial diagnosis is low," said Dr. Ho Sang Jung of the Surface & Nano Materials Division of KIMS, a senior researcher in charge of the research. "Since early diagnosis is the most important for incurable diseases such as cancer, we expect this technology to provide a new diagnostic method."
Related Links:
KIMS