Point-of-Care Diagnostic to Identify G6PD Deficiency Evaluated
By LabMedica International staff writers
Posted on 31 Aug 2021
Glucose-6-phosphate dehydrogenase (G6PD) deficiency is an inherited condition in which patients are excessively susceptible to the development of hemolytic anemia. Affected people lack the ability to tolerate biochemical oxidative stress, and red cell hemolysis is the most important clinical consequence.
People with G6PD deficiency are at risk of hemolysis when exposed to certain medications, including 8-aminoquinoline drugs used to treat
Plasmodium vivax
malaria. The diagnosis of G6PD deficiency is made by a quantitative spectrophotometric analysis or, more commonly, by a rapid fluorescent spot test detecting the generation of NADPH from NADP. The test is positive if the blood spot fails to fluoresce under ultraviolet light.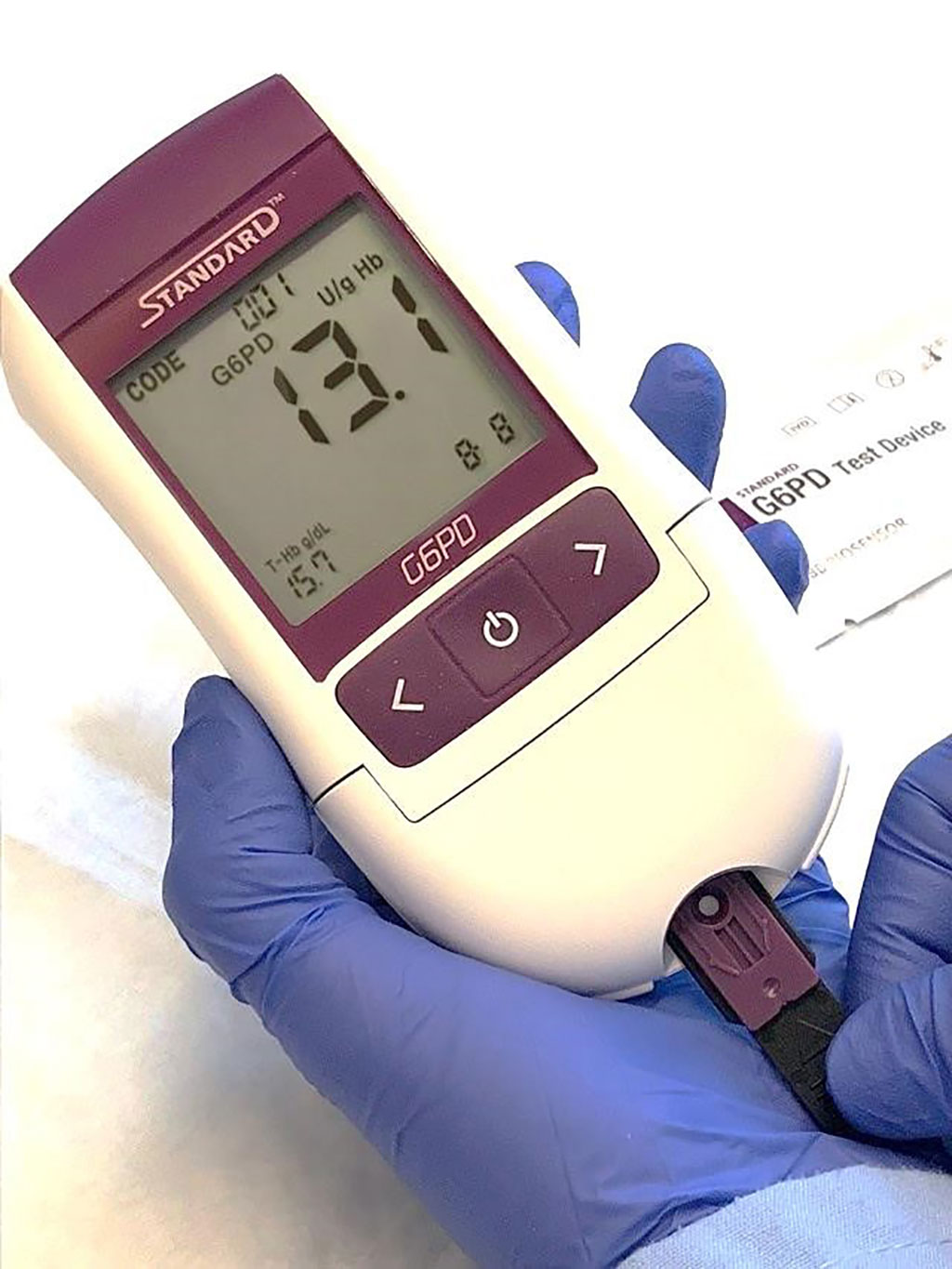 Scientists specializing in Tropical Medicine from the Amazonas State University (Manaus, Brazil) and their international colleagues collected venous samples were from 1,662 participants, and capillary samples were available from 1,693 participants. Microscopic examinations of thick blood slides were conducted to determine malaria diagnosis. The performance of the semi-quantitative point-of-care G6PD test, STANDARD G6PD Test (SD Biosensor, Suwon, Republic of Korea). Both capillary and venous specimens were compared to matching G6PD values from venous specimens tested with a spectrophotometric reference assay normalized by hemoglobin.
The quantitative G6PD reference assay was run in duplicate using the Pointe Scientific reagent kit (Pointe Scientific, Canton, MI, USA) on a Shimadzu UV-1800 six-cell temperature-regulated manual spectrophotometer (Kyoto, Japan). Each specimen was also tested using the Trinity qualitative G6PD FST kit (G-6-PDH Screen by Spot Test, Trinity Biotech, Bray, Ireland). Hemoglobin concentration was determined within 24 hours using a KX-21N automated hematology analyzer (Sysmex, Kobe, Japan) and the HemoCue 201+ test (HemoCue AB, Ångelholm, Sweden) and run on aliquoted venous blood in the laboratory within 24 hours of sample collection.
The scientists reported that in comparison to spectrophotometry, the STANDARD G6PD Test performed equivalently in determining G6PD status in venous and capillary specimens under varied operating temperatures. Using the manufacturer-recommended reference value thresholds, the test's sensitivity at the <30% threshold on both specimen types was 100%. Specificity was 98.6% on venous specimens and 97.8% on capillary. At the 70% threshold, the test's sensitivity was 96.9% on venous specimens and 94.3% on capillary. Specificity was 96.5% and 92.3% on venous and capillary specimens, respectively.
The authors concluded that their data showed that the STANDARD G6PD Test performed well in comparison to the spectrophotometric reference standard. The STANDARD G6PD Test is a promising tool to aid in the identification of G6PD deficiency in Brazil. The availability of this test represents an important opportunity to improve management of
P. vivax
malaria cases in resource-limited settings, where reliable alternatives to quantitative spectrophotometry are needed to expand access to radical cure. The study was published on August 12, 2021 in the journal
PLOS Neglected Tropical Diseases.
Related Links:

Amazonas State University
SD Biosensor
Pointe Scientific
Shimadzu
Trinity Biotech
HemoCue AB
Latest Clinical Chem. News