Vitamin D Levels Tied to COVID-19 Risk for African-Americans
By LabMedica International staff writers
Posted on 29 Mar 2021
Vitamin D has diverse physiological effects, including on calcium regulation, bone density, and immune function. Deficient levels, typically defined as 25-hydroxyvitamin D (also known as calcifediol) level less than 20 ng/mL are common, especially in African-Americans individuals.
Vitamin D is also important for immune function, and a meta-analysis of randomized clinical trials using daily or weekly dosing has found vitamin D supplementation was associated with substantially decreased viral respiratory infections, especially in individuals who were deficient in vitamin D, but also individuals without a deficient level.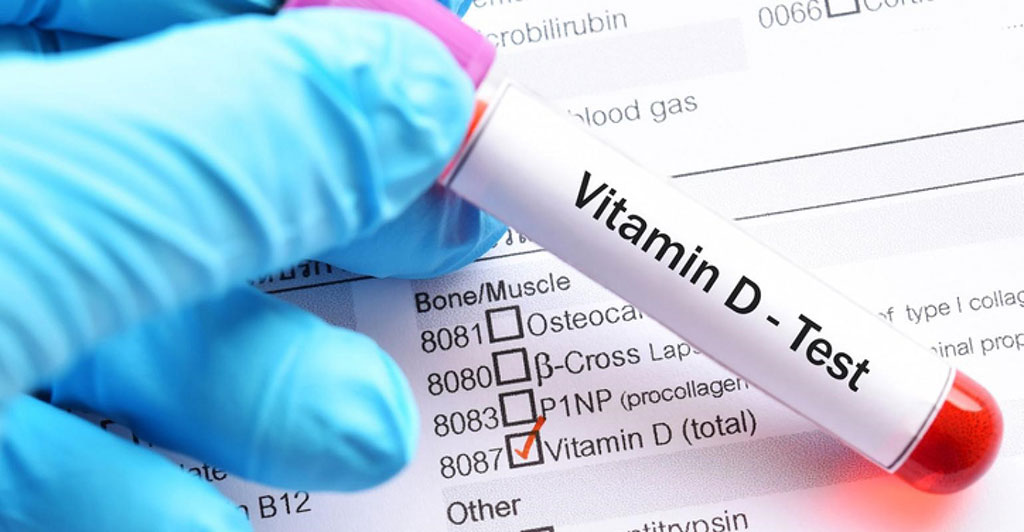 A team of Medical Scientists from The University of Chicago (Chicago, IL, USA) examined whether COVID-19 test results are associated with differences in vitamin D levels of 30 ng/mL or greater, including for White individuals and for African-Americans individuals. The team assessed data from 4,638 people tested for COVID-19 from March 3, 2020 to April 10, 2020, who also had data on vitamin D levels within a year prior to COVID-19 testing. COVID-19 status was determined by the Centers for Disease Control and Prevention or Viacor polymerase chain reaction (PCR, Lee's Summit, MO, USA) test used until in-house testing with the Cobas SARS-CoV-2 RT-PCR (Roche Diagnostics, Rotkreuz, Switzerland) began March 15, 2020.
The primary outcome was whether vitamin D level within 14 days was associated with testing positive for COVID-19, and the group controlled for time and vitamin D treatment changes since the vitamin D level was measured, as well as demographic characteristics and comorbidity indicators. The team reported that patients' mean age was around 53 and 69% were women; 49% were African-Americans and 43% were White. They were stratified into four groups by vitamin D levels. African-Americans individuals were more likely than White individuals to have vitamin D levels below 20 ng/mL (36% and 16%, respectively), and more likely to test positive for COVID-19 (9% and 5%, respectively). COVID-19 risk decreased by 5% for each 1 ng/mL increment among individuals with a level of 30 ng/mL or greater in African-Americans individuals.
The authors concluded that COVID-19 risk increased among African-Americans individuals with vitamin D level less than 40 ng/mL compared with those with 40 ng/mL or greater and decreased with increasing levels among individuals with levels greater than 30 ng/mL. No significant associations were noted for White individuals. The study was published on March 19, 2021 in the journal
JAMA Network Open.
Related Links:

The University of Chicago
Viacor
Roche Diagnostics