Angiopoietin-Like 2 Is a Biomarker for Diabetic Foot Patients
By LabMedica International staff writers
Posted on 14 Jan 2021
Diabetic foot ulcers (DFUs) are one of the common complications in type 2 diabetes mellitus
patients and are chartered by lower extremity vascular obstructions, persistent foot infections, ulcers, and deep tissue destruction.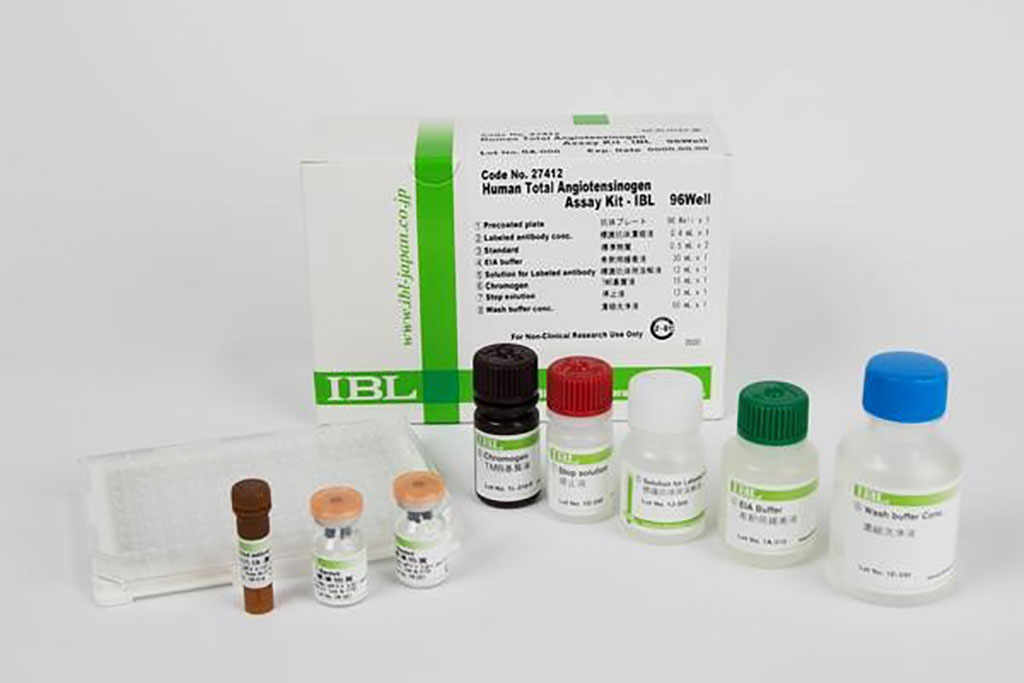 Circulating angiopoietin-like 2 (ANGPTL2) protein levels are known to be significantly increased in numerous chronic inflammatory diseases and are associated with the diagnosis and/or prognosis of cardiovascular diseases, diabetes, chronic kidney disease, and various types of cancers.
Endocrinologists at Beijing Luhe Hospital (Beijing, China) recruited a total of 68 participants with type 2 diabetes mellitus (T2DM) including 28 patients with DFU and 40 diabetic patients without DFUs. The diagnosis of T2DM was based on the 1999 World Health Organization Criteria, which fulfills random blood glucose ≥11.1 mmol/L and/or fasting blood glucose (FBG) ≥ 7.0 mmol/L and/or 2 hour blood glucose, during an oral glucose tolerance test (OGTT) ≥ 11.1 mmol/L.
Routine laboratory measurements were performed, including fasting plasma glucose (FBG, mmol/L), alanine transaminase (ALT,U/L), aspartate transaminase (AST,U/L), glutamyl transpeptidase (γ-GT,U/L), triglyceride (TG, mmol/L), total cholesterol (CHO, mmol/L), low density lipoprotein cholesterol (LDL-C, mmol/L), high density lipoprotein cholesterol (HDL-C, mmol/L), C-reactive protein (CRP), erythrocyte sedimentation rate (ESR), and white blood cell count (WBC). Serum ANGPTL2 was measured by using a commercially available human ELISA kits (Immuno-biological laboratories Co., Ltd., Fujioka-Shi, Japan) and Vascular endothelial growth factor (VEGF) (R&D Systems, Minneapolis, MN, USA).
The scientists reported that serum levels of ANGPTL2 were significantly higher in patients with DFUs than those in diabetic control ((T2DM versus DFU: 4.221 ± 1.301 versus 6.561 ± 2.335 μg/L). Serum ANGPTL2 levels were higher in the advanced stages of DFUs. Spearman correlation analysis revealed strong positive associations of ANGPTL2 with CRP, VEGF and ESR in all subjects. In addition, serum ANGPTL2 was still positively correlated with DFUs stage after adjusting the risk factors. After adjusting for age, sex, HbA1c and duration of diabetes, ANGPTL2 was found to be independently associated with the presence of DFUs.
The authors concluded that circulating ANGPTL2 levels are an independent risk factor for DFUs and are closely related to the severity of diabetic foot. ANGPTL2 may play important roles in the development of DFUs. The study was originally published on November 30, 2020 in the journal
BMC Endocrine Disorders.
Related Links:

Beijing Luhe Hospital
Immuno-biological laboratories Co., Ltd
R&D Systems