Breath Ammonia Biomarker Predicts Kidney Function in CKD Patients
By LabMedica International staff writers
Posted on 18 Nov 2020
Chronic kidney disease (CKD) is a type of kidney disease in which there is gradual loss of kidney function over a period of months to years. Initially there are generally no symptoms; later, symptoms may include leg swelling, feeling tired, vomiting, loss of appetite, and confusion.
Diagnosis of CKD is largely based on history, examination and urine dipstick combined with the measurement of the serum creatinine level. It is important to differentiate CKD from acute kidney injury (AKI) because AKI can be reversible. One diagnostic clue that helps differentiate CKD from AKI is a gradual rise in serum creatinine (over several months or years) as opposed to a sudden increase in the serum creatinine (several days to weeks).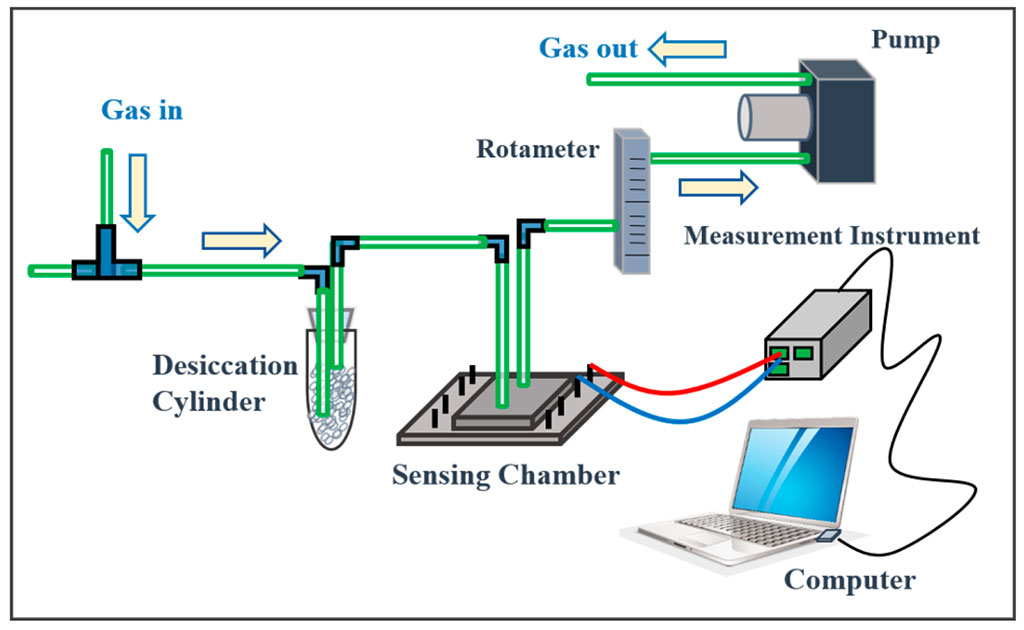 Nephrologists at the Chang Gung Kidney Research Center (Taoyan, Taiwan) and their colleagues investigated whether exhaled breath ammonia measurement could be used for rapid CKD screening. The scientists enrolled 121 patients with CKD stages 1 to 5 (average age, 61 years; 62 patients were men) and compared breath ammonia level measurements with blood urea nitrogen (BUN), creatine and eGFR levels. The gas measurement system used in this study was composed of a rotameter, pump, desiccation cylinder, the sensing chamber, and an electrical signal measurement instrument (Keysight Technologies, Santa Rosa, CA, USA).
The team reported that breath ammonia level correlated with BUN, serum creatinine, eGFR and inversed eGFR levels. Breath ammonia concentration was increasingly elevated at each stage of CKD (stage 1: 636 ± 94 ppb; stage 2: 1,020 ± 326 ppb; stage 3: 1,943 ± 326 ppb; stage 4: 4,421 ± 1,042 ppb; stage 5: 12,781 ± 1,807 ppb). The area under curve for a breath ammonia level cutoff concentration of 1,187 ppb comparing patients with eGFR of at least 60 mL/min/1.73 m2 with patients with eGFR of no more than 60 mL/min/1.73 m2 was 0.831 (positive predictive value, 0.84; negative predictive value, 0.61; sensitivity, 71%; specificity, 78%).
The scientists noted that at 886 ppb, the sensitivity increased to 80%, but the specificity decreased to 69%. They also wrote there were no significant differences between patients in each stage regarding sex, body weight, hemoglobin, albumin, comorbidities and medication and that BUN level, creatinine and eGFR increased with each CKD stage.
Ya-chung Tian, MD, an associate professor of nephrology and a co-author of the study, said, "Because CKD is non-life threating and breath ammonia detection was conducted in real time, inexpensive, easy to administer and had an acceptable diagnostic accuracy, breath ammonia can be used as a good surrogate for kidney function and a reliable tool for CKD screening."
The authors concluded that breath ammonia detection with vertical-channel organic semiconductor (V-OSC) is a real time, inexpensive, and easy to administer measurement device for screening CKD with reliable diagnostic accuracy. The study was published on October 31, 2020 in the journal
Biomedical Materials and Nanomedicine.
Related Links:

Chang Gung Kidney Research Center
Keysight Technologies