Salivary Molecular Spectroscopy Used to Monitor Diabetes
By LabMedica International staff writers
Posted on 28 Apr 2020
Diabetes mellitus (DM) is a metabolic disorder characterized by hyperglycemia which results from insufficient secretion and/or reduced insulin action in peripheral tissues. Frequent monitoring of diabetes is essential for improved glucose control and to delay clinical complications related with diabetes.
Saliva reflects several physiological functions of the body. Salivary biomarkers might be an attractive alternative to blood for early detection, and for monitoring systemic diseases and among the advantages, saliva is simple to collect, non-invasive, convenient to store and, compared to blood, requires less handling during clinical procedures.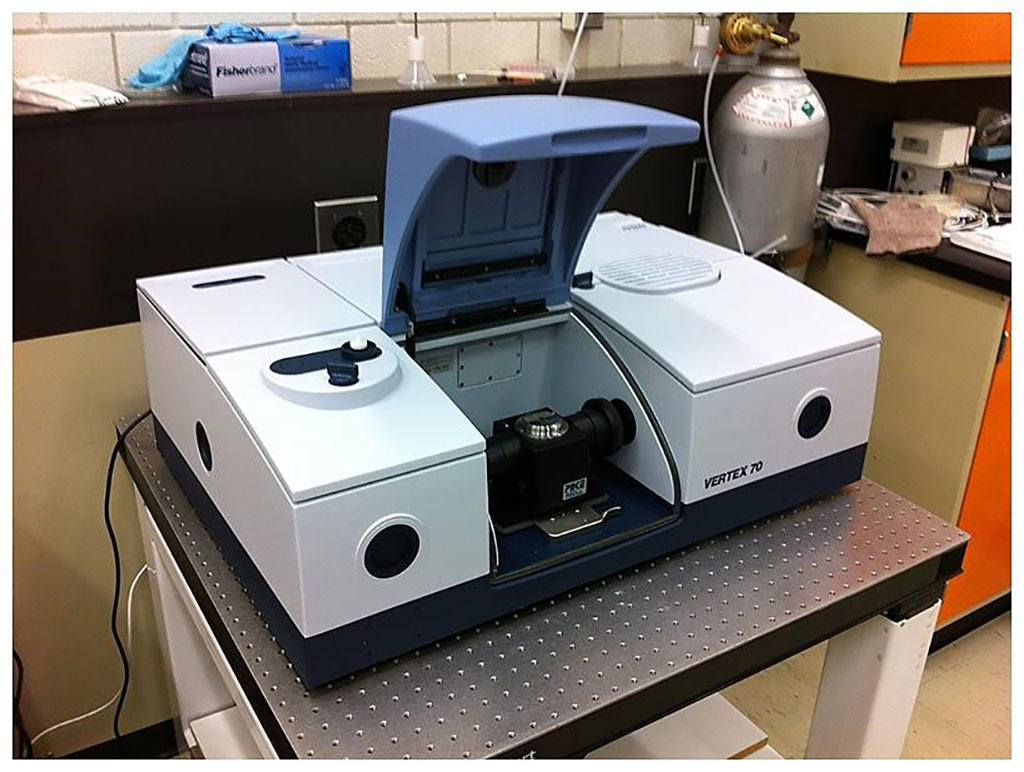 An international team of scientists led by those at the Federal University of Uberlandia (Uberlandia, Brazil) used a scientific system known as Attenuated Total Reflectance Fourier Transform Infrared (ATR-FTIR) spectroscopy. The team utilized the Vertex 70 ATR-FTIR spectrophotometer (Bruker Optics, Reinstetten, Germany) using a micro-attenuated total reflectance (ATR) component, to evaluate saliva of non-diabetic (ND), diabetic (D) and insulin-treated diabetic (D+I) rats to identify potential salivary biomarkers related to glucose monitoring.
The scientists reported that the spectrum of saliva of ND, D and D+I rats displayed several unique vibrational modes and from these, two vibrational modes were pre-validated as potential diagnostic biomarkers by ROC curve analysis with significant correlation with glycemia. Compared to the ND and D+I rats, classification of D rats was achieved with a sensitivity of 100%, and an average specificity of 93.3% and 100% using bands 1452 cm-1 and 836 cm-1, respectively. Moreover, 1452 cm-1 and 836 cm-1 spectral bands proved to be robust spectral biomarkers and highly correlated with glycemia.
Robinson Sabino-Silva, PhD, an adjunct professor and senior author of the study. "The present protocol used in the infrared platform is able to detect spectral biomarkers without reagents. The combination of a non-invasive salivary collection and a reagent-free analysis permit us to monitor diabetes with a sustainable platform classified as green technology."
Matthew Baker, PhD, a Reader at Strathclyde University (Glasgow, UK) and a co-author of the study, said, "Frequent monitoring of diabetes is essential for improved glucose control and to delay clinical complications related to the condition. Early screening is also paramount in reducing these complications worldwide."
The authors concluded that these salivary results indicate that ATR-FTIR spectroscopy coupled with univariate or multivariate chemometric analysis has the potential to provide a novel noninvasive approach to diabetes monitoring assisting medical decision making to avoid under-treatment or over-treatment with insulin. The study was published on March 17, 2020 in the journal
PLOS ONE.
Latest Clinical Chemistry News