HPLC Method Developed for Vitamin B6 Quantitation
By LabMedica International staff writers
Posted on 21 Apr 2020
Symptoms of vitamin B6 deficiency can include dermatitis, glossitis, depression, confusion, convulsions, and anemia. Inborn errors affecting vitamin B6 metabolism have been associated with vitamin B6-dependent epilepsy.
While vitamin B6 status is primarily assessed by measuring the biologically active form of the vitamin, pyridoxal 5-phosphate (PLP), concurrent measurement of the final metabolite 4-pyridoxic acid (PA) can provide additional information regarding supplement intake and hypophosphatasia.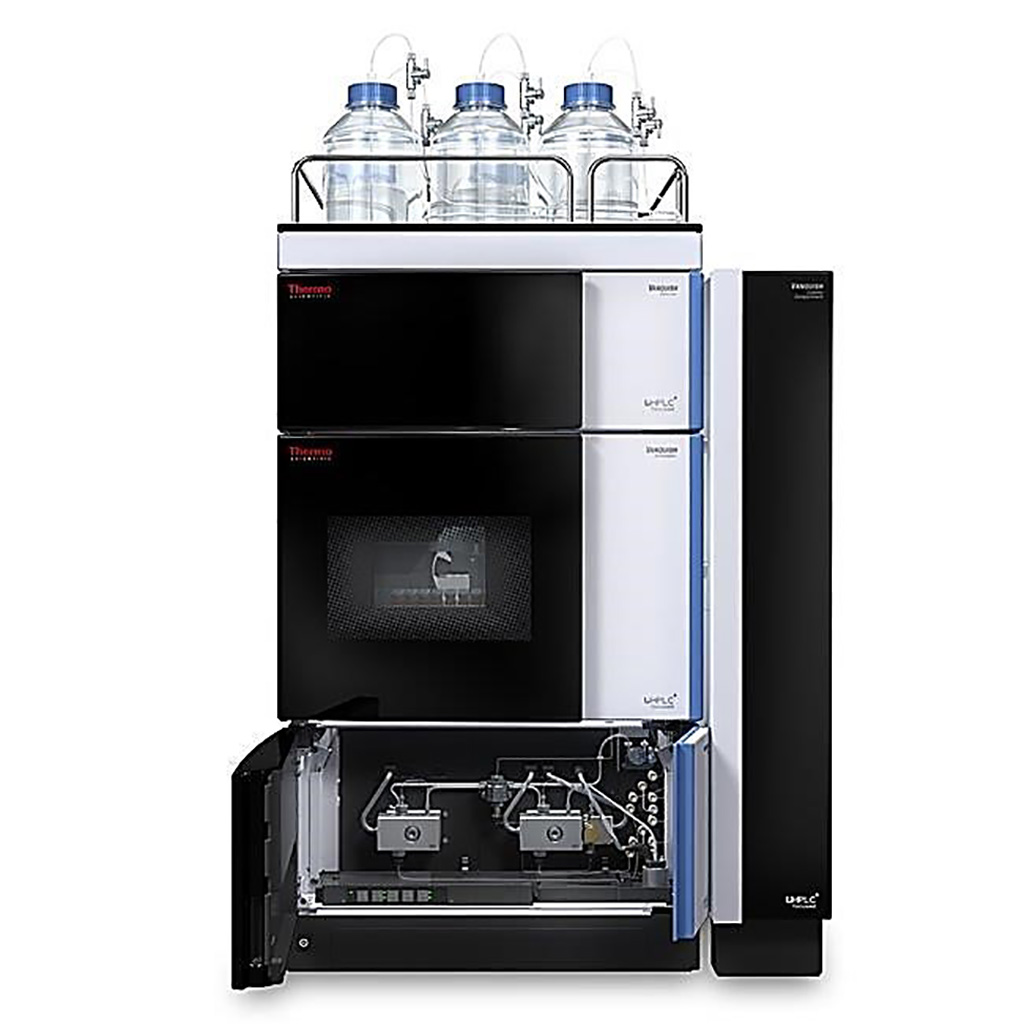 Laboratory Scientists at the Cleveland Clinic (Cleveland, OH, USA) developed a one-step reverse phase High-Performance Liquid Chromatography (HPLC) method with fluorescence detection by evaluating different derivatization conditions, the use of an internal standard and different calibration strategies. The assay analytical performance was evaluated. A Thermal Vanquish UHPLC system equipped with fluorescence detector (Thermo Fisher Scientific, Waltham, MA, USA) was used in the analysis.
The team reported that pre-column derivatization with semicarbazide showed the best overall performance in terms of signal to noise ratio, retention time and peak shape when compared to pre- or post-column derivatization with chlorite, pre-column or in-mobile phase derivatization using sodium bisulfite. The final method provided an analytical measurement range from 7.7-300 nmol/L for PLP and 3.7–300 nmol/L for PA, total imprecision <15% and <5% for PLP and PA respectively. Calibration against the National Institute of Standards and Technology (NIST) standard produced measured values within 3% of NIST assigned PLP values. The use of 4-deoxypyridoxine as internal standard did not improve precision or accuracy when compared to calibration using 5-level external standards.
The authors concluded that they had developed a simple one-step HPLC method for evaluation of vitamin B6 status by measuring the bioactive PLP and final metabolite PA simultaneously. The assay procedure was simplified into a one-step approach by combining the protein precipitation and derivatization procedure without compromising analytical performance. The method is fast, precise and sensitive enough to detect vitamin B6 concentrations below 2.5th percentile among the general population in the USA.