Higher Tenascin-C Levels Associated with Cardiovascular Disease
By LabMedica International staff writers
Posted on 26 Mar 2020
Although there are several known biomarkers for cardiovascular (CV) risk that have been proposed to improve risk stratification in diabetes, they have not been incorporated into international guidelines.
Studies have shown that the extracellular matrix glycoprotein tenascin-C (TN-C) is transiently upregulated at sites of inflammation (e.g., after acute myocardial infarction), and as such, it is generally considered a marker of inflammation in CV diseases. Serum TN-C has not yet been specifically studied in individuals with type 2 diabetes, which is a condition associated with chronic low-grade inflammation and increased CV disease risk.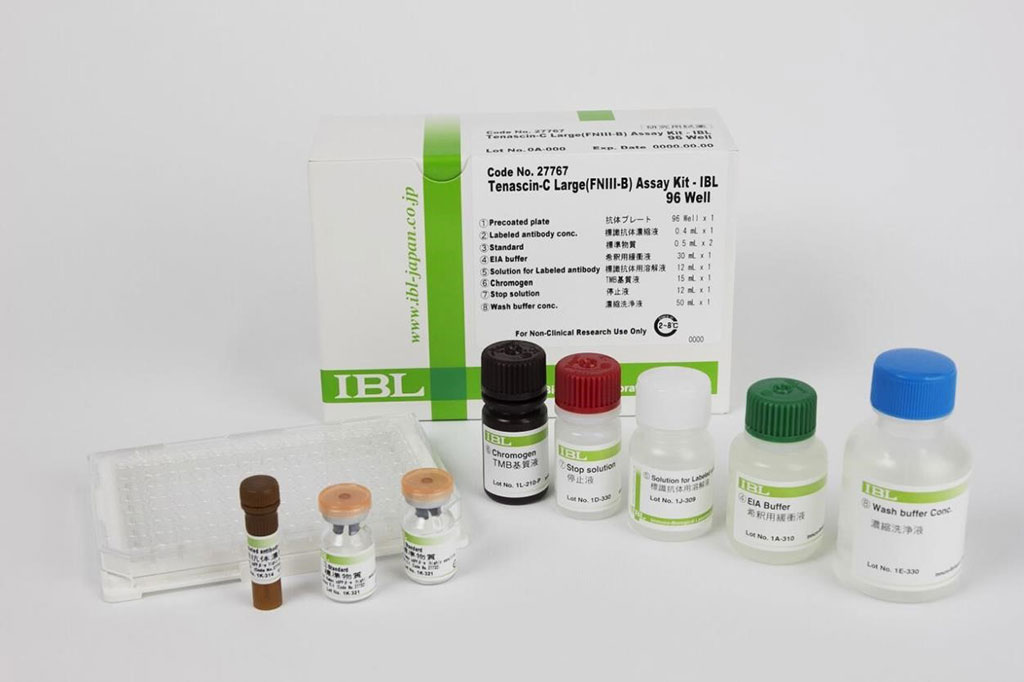 Scientists at the ELSAN, Polyclinique de Poitiers (Poitiers, France) and their many colleagues used a prospective, monocentric cohort of consecutive type 2 diabetes participants (the SURDIAGENE cohort) with all-cause death as a primary endpoint and MACE (CV death, non-fatal myocardial infarction or stroke) as a secondary endpoint. They used a proportional hazard model after adjustment for traditional risk factors and the relative integrated discrimination improvement (rIDI) to assess the incremental predictive value of TN-C for these risk factors.
The average age of the included individuals was 64 ± 11 years. Patients with a baseline estimated glomerular filtration rate <30 mL/min/1.73 m
2
, a history of prior renal replacement therapy, or a follow-up duration of <3 months were excluded. Blood samples and second morning urine samples were obtained from individuals after an overnight fast to measure various biological characteristics, such as hemoglobin A1c, low-density lipoprotein cholesterol, serum creatinine, and TN-C levels.
The team reported that higher TN-C concentrations were significantly associated with older age, longer duration of diabetes, history of CV disease, and diabetic retinopathy severity. Median follow-up duration was 89 months (range, 57-130 months), corresponding to 9,965 person-years. The overall mortality rate was 4.4% of total person-years of follow-up duration and the MACE rate was 5.2% of total person-years. The most common cause of death was CV diseases (54%). Baseline serum TN-C concentrations were higher in the group of individuals who died compared with survivors (89.3 ± 49.8 versus 69.0 ± 38.1 ng/mL) and higher in individuals with versus without incidental MACE (87.2 ± 48.4 versus 68.9 ± 38.6 ng/mL).
This study showed that higher serum TN-C concentrations were significantly associated with an increased risk for mortality and MACE in type 2 diabetes, even after adjustment for inflammatory markers such as angiopoietin-like 2 and tumor necrosis factor receptor 1 (TNFR1). The authors concluded that TN-C showed a significant predictive value not only for all-cause death, but also for MACE, suggesting that TN-C overexpression in individuals with type 2 diabetes may be linked to CV disease development and progression. The study was published ahead of print on February 10, 2020 in the journal
Diabetologia
.
Related Links:

ELSAN, Polyclinique de Poitiers
Latest Clinical Chemistry News