Kidney Disease Reveals DNA Variants Associated with Diabetic Nephropathy
By LabMedica International staff writers
Posted on 26 Mar 2020
Diabetic kidney disease is a serious complication that develops in some people with both Type 1 and Type 2 diabetes. It affects the kidneys' ability to filter extra water and waste products from the body and leads to high blood pressure, swollen extremities, loss of concentration, fatigue and could end in kidney failure.
Although diabetic nephropathy is partly genetic in nature, the underlying pathogenetic mechanisms are obscure. Several genetic susceptibility loci associated with diabetic nephropathy have been documented, but no causative variants implying novel pathogenetic mechanisms have been elucidated.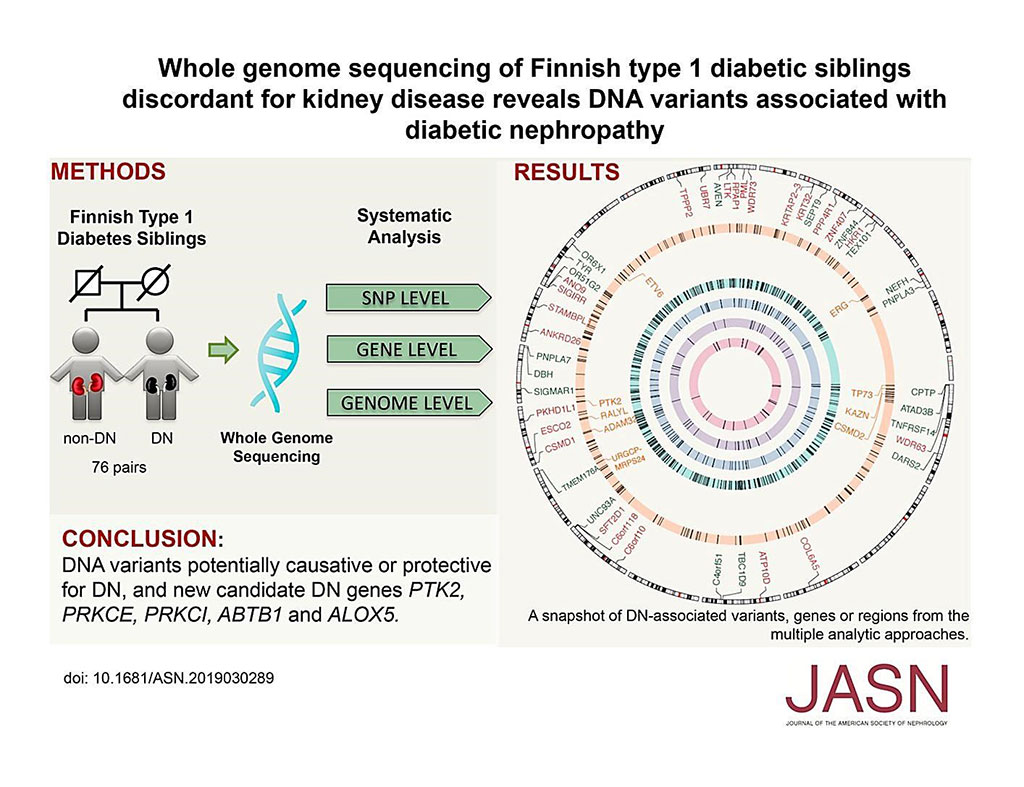 An international team of Medical Biochemists and others collaborating with the Duke University (Durham, NC, USA) compared the genomes of 76 Finnish sibling pairs, where both siblings had Type 1 diabetes for more than 15 years, but only one had developed diabetic kidney disease. They looked for differences between the siblings at the genome, gene, and single mutation level. They then validated their results by analyzing the genes of more than 3,500 unrelated Finns with Type 1 diabetes, almost 40% of whom had diabetic kidney disease.
The team observed protein-altering variants and an enrichment of variants in regions associated with the presence or absence of diabetic nephropathy. The replication cohort confirmed variants in both regulatory and protein-coding regions. They also observed that diabetic nephropathy–associated variants, when clustered at the gene level, are enriched in a core protein-interaction network representing proteins essential for podocyte function. These genes include protein kinases (protein kinase C isoforms ε and ι) and protein tyrosine kinase 2.
The authors concluded that their comprehensive analysis of a diabetic nephropathy cohort of siblings with type 1 diabetes who were discordant for kidney disease points to variants and genes that are potentially causative or protective for diabetic nephropathy. This includes variants in two isoforms of the protein kinase C family not previously linked to diabetic nephropathy, adding support to previous hypotheses that the protein kinase C family members play a role in diabetic nephropathy and might be attractive therapeutic targets.
Karl Tryggvason, MD, PhD, a professor and senior author of the study, said, "Our analyses revealed several genes that could be involved in the development of the disease by coding for mutations in protein-modifying enzymes belonging to a large family of proteins called protein kinase C." The study was published in the February 2020 issue of the
Journal of the American Society of Nephrology.
Related Links:

Duke University
Latest Clinical Chemistry News