Adiponectin Linked to Cancer Risk in Diabetes
By LabMedica International staff writers
Posted on 17 Mar 2020
Adiponectin is a protein hormone that modulates a number of metabolic processes, including glucose regulation and fatty acid oxidation. Adiponectin is secreted from adipose tissue, and also from the placenta in pregnancy, into the bloodstream and is very abundant in plasma relative to many hormones.
Despite the beneficial cardiometabolic effects of adiponectin demonstrated in preclinical studies, paradoxically higher circulating adiponectin concentrations have been found in epidemiological studies to be associated with incident cardiovascular events, renal outcomes, and mortality in patients with diabetes.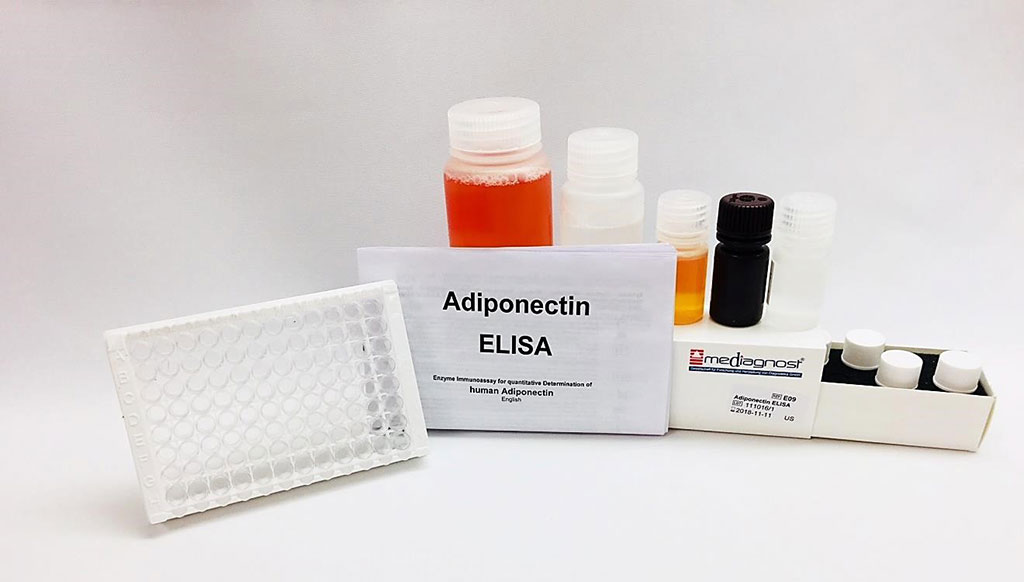 Medical scientists at the University of Hong Kong (Pokfulam, Hong Kong, China) and their colleagues carried out a prospective cohort study, and analyzed data from 5,658 adults with type 2 diabetes recruited from the Hong Kong West Diabetes Registry (median follow-up, 6.5 years). The team measured baseline serum adiponectin concentrations and stratified participants according to adiponectin tertiles (< 7.23 µg/mL, 7.23-12 µg/mL, >12 µg/mL), and used Cox regression analysis to estimate associations between circulating adiponectin concentrations with incident cancer and cancer-related mortality.
The investigators reported that over a median-follow up of 6.5 years, 7.53% and 3% of participants developed cancer and had cancer-related deaths, respectively. Serum adiponectin concentrations were significantly higher in those who had incident cancer (9.8 μg/mL versus 9.1 μg/mL) and cancer-related deaths (11.5 μg/mL versus 9.3 μg/mL) compared with those without. Moreover, in multivariable analyses, serum adiponectin concentration was independently associated with both incident cancer (hazard ratio (HR) = 1.19) and cancer-related deaths (HR = 1.23). In sex-stratified analyses, the association between serum adiponectin and incident cancer was only observed among men (HR = 1.23).
The authors concluded that higher serum adiponectin concentration was independently associated with incident cancer and cancer-related deaths in type 2 diabetes, indicating that adiponectin paradox can be observed in another major diabetic complication in addition to cardiovascular and kidney diseases.
Karen Lam, MD, professor of medicine and the senior author of the study, said, "Although adiponectin, a hormone from the fat cells, has been reported to protect against cancers in animal studies, mostly in mice, higher levels of adiponectin paradoxically predicted the development of cancer and death due to cancers in this study of more than 5,000 people with diabetes". The study was published online on February 19, 2020 in
The Journal of Clinical Endocrinology & Metabolism.
Related Links:

University of Hong Kong
Latest Clinical Chemistry News