Increased Hormones Lead to Idiopathic Intracranial Hypertension
By Labmedica International staff writers
Posted on 02 Apr 2019
Idiopathic Intracranial Hypertension, also known as IIH, is caused by high pressure in the brain with consequences from blindness to incapacitating daily long-term headaches. Patients have reduced quality of life due to chronic headaches and papilledema-induced visual loss which is permanent in 25% of patients.
Once regarded as rare, incidence of IIH is now rising dramatically in line with the global rise in obesity and there has been a 150% rise in incidence in the last 10 years. Currently there are very limited treatment options. IIH shares phenotypic characteristics with polycystic ovary syndrome (PCOS), in which androgen excess is a defining feature.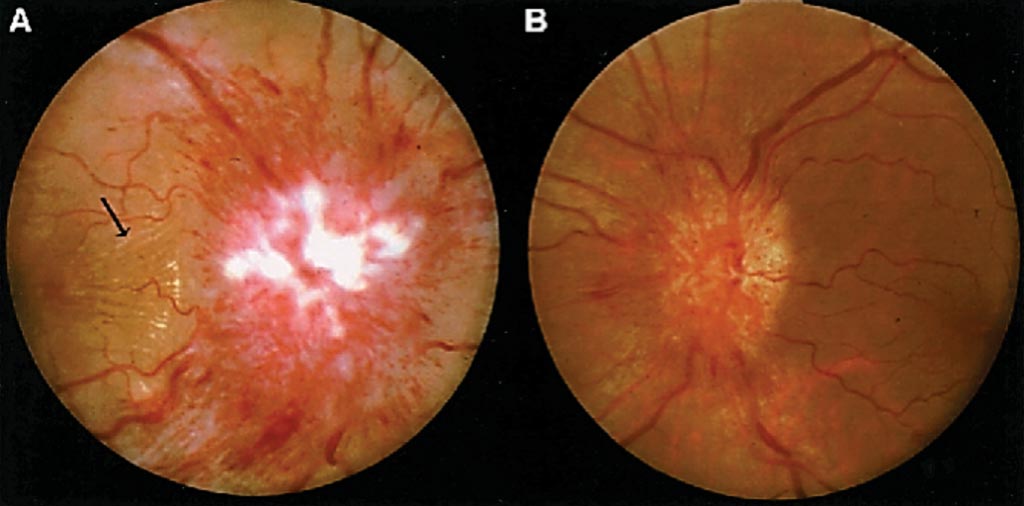 A team of scientists collaborating with the University of Birmingham (Birmingham, UK) examined the levels of androgens in blood and urine, as well as in brain fluid known as cerebrospinal fluid (CSF), in 55 women with IIH aged 18 to 45. They then compared the results with the levels observed in women with obesity of the same age and body mass index (BMI), as well as a cohort of women with PCOS. Analysis of live cell data was acquired with MetaMorph. An image sequence was initially analyzed on ImageJ (V1.48; National Institute of Health, Bethesda, MD, USA), where individual random cells are selected as a region of interest and motile cells are excluded from the analysis.
The team found that found that IIH patients had a very different profile of raised levels of androgens compared to women of a similar age with obesity and women with PCOS. Most notable were the high levels of the androgen testosterone, which is found in the blood in IIH women. Crucially, levels of androgens were uniquely increased in the brain fluid (CSF) of women with IIH. When they, analyzed human choroidal plexus tissue, which is the site in the brain where CSF is produced, they confirmed that androgens could increase the rate of CSF secretion, a potential driver for increased brain pressure.
The authors concluded that women with IIH have a distinct androgen excess signature, which, with the in vitro assay on Na+/K+-ATPase activity, supports a potential role for androgens in the pathogenesis of IIH. They proposed that potent androgens are activated in the choroid plexus and/or cross the blood-brain barrier after activation in other tissues where they affect CSF secretion and intracranial pressure (ICP).
Alexandra J. Sinclair MBChB, MRCP, PhD, a clinical scientist and senior author of the study said, "These findings mark a key step forward; for the first time we have found a pattern of androgen dysregulation that is unique to IIH and potentially a driver of abnormal brain pressure in people with the condition. Taken together this provides the first evidence that IIH may be a manifestation of female androgen excess." The study was published on March 21, 2019, in the journal JCI Insight.
Related Links:
University of Birmingham
National Institute of Health

Latest Clinical Chemistry News