Biochemical Monitoring Devices Measure Analytes in Perspiration
By Labmedica International staff writers
Posted on 25 Mar 2019
A recent paper examined the physiology of sweat secretion in order to advance development of peripheral biochemical monitoring devices that test for analytes in perspiration rather than in blood.
Further development of continuous sensing technologies through new electrochemical sensing techniques will be a major focus of future research. While there has been much investment in wearable technologies to sense analytes, less effort has been directed to understanding the physiology of biofluid secretion. Elucidating the underlying biology is crucial for accelerating technological progress, as the biofluid itself often presents the greatest challenge in terms of sample volumes, secretion rates, filtration, active analyte channels, variable pH and salinity, analyte breakdown, and other confounding factors.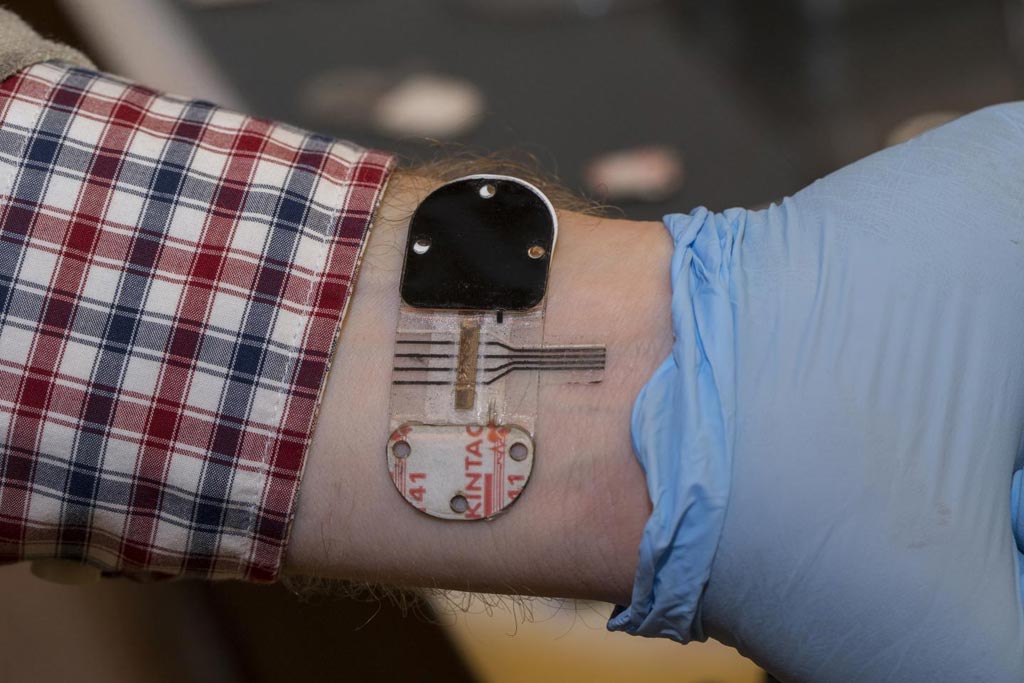 Investigators at the University of Cincinnati (OH, USA) had described in the December 21, 2018, online edition of the journal Lab on a Chip a wearable sweat biosensing device that stimulated sweat and continuously measured sweat ethanol concentrations at 25-second intervals. While this work showed that sweat biosensing could provide continuous and blood-correlated data in an integrated wearable device, unresolved questions included operation for 24 hours or greater and with analytes beyond those commonly explored for in sweat (electrolytes and metabolites).
In a more recent study, the investigators described new sensors attached to a wearable patch the size of a Band-Aid that stimulated sweat even when the patient was cool and resting. The sensor measured specific analytes over time so that the data could be used to determine how the patient was responding to a drug treatment.
"For medications, we can use sweat to get an exact measurement of concentrations in the blood," said senior author Dr. Jason Heikenfeld, professor of electrical engineering, materials science and engineering, and biomedical engineering at the University of Cincinnati. "That is important because once we can measure concentrations of therapeutics in blood, we can look at drug dosing. And that could make current dosing look like something from the Stone Age."
The new study was published in the February 25, 2019, online edition of the journal Nature Biotechnology.
Related Links:
University of Cincinnati

Latest Clinical Chemistry News