Blood Tests Differentiate Myocardial Injury from Infarction
By Labmedica International staff writers
Posted on 03 Oct 2018
Myocardial infarction represents the death of myocardial cells and is characterized by acute myocardial ischemia. Nonischemic myocardial injury by comparison is often associated with other conditions such as renal failure or heart conditions like myocarditis.
A new definition of acute myocardial infarction (MI) that separates it from myocardial injury presents an opportunity for laboratories to fully leverage high-sensitivity cardiac troponin (hs-cTn) assays and provide better guidance to physicians on interpreting cTn results.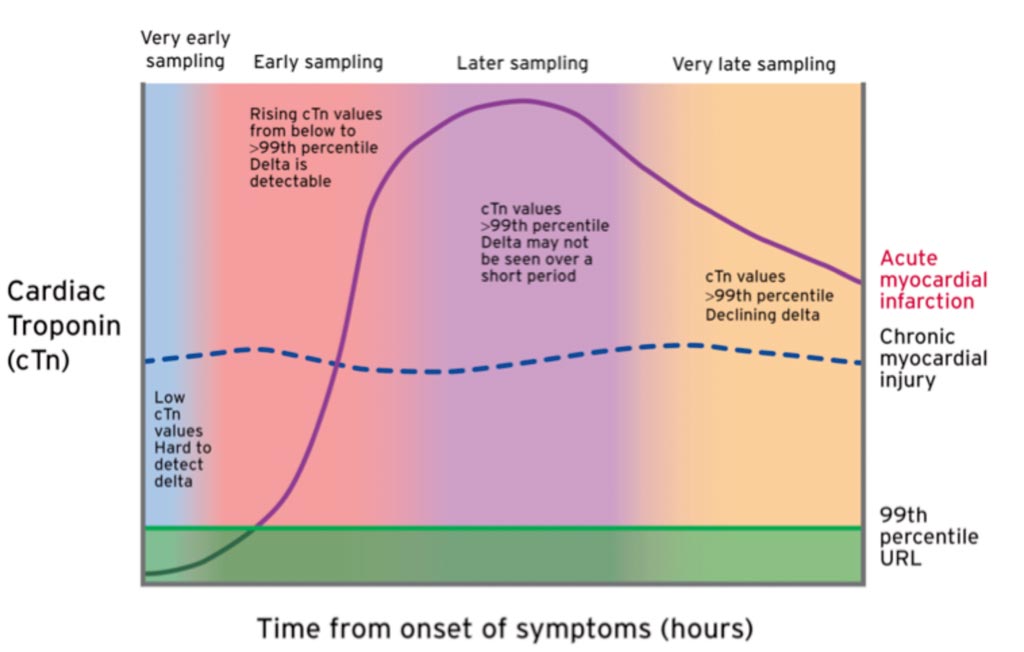 An international team of experts led by a specialist at the Aarhus University Hospital (Aarhus, Denmark) have issued the Fourth Universal Definition of MI and also commented on multiple approaches that use early data to predict who will have an acute MI and who will rule out. The document lists these various screening and triage approaches for rapid rule in and rule out, listing some of the pros and cons of each approach.
Biomarkers cTn I and T help define who has acute MI. Myocardial injury reflects an elevated cTn value above the 99th percentile upper reference limit. When cTn values rise and fall due to myocardial ischemia with at least one value exceeding the 99th percentile, then the definition changes to acute MI. The advent of hs-cTn assays underscores the need to create this differentiation between heart attack and injury.
Clinical laboratory scientists in the wake of this new definition could take several measures to help physicians appropriately use and interpret hs-cTn results. Consistent use of the 99th percentile protocol is one such approach. Laboratories sometimes decide that the 99th percentile is something else and use their own cutoffs. This undermines the guidance the Universal Fourth Definition is trying to achieve.
Laboratories also need to work on turnaround time to prevent emergency department overcrowding as when the emergency department is overloaded, all patients suffer. Allan Jaffe, MD, a cardiologist and guideline co-author, said, "It's hard to suggest approaches to evaluate changing patterns or results or when to consider other possibilities when these are set up as if one is using the assays properly and someone else is using different cutoffs. Then it doesn't work well. It's important that labs start to come together and stop deciding that the 99th percentile is something else." The study was published on August 28, 2018, in the European Heart Journal.
Related Links:
Aarhus University Hospital

Latest Clinical Chemistry News