High Blood Sugar During Pregnancy Increases Risk of Diabetes
By Labmedica International staff writers
Posted on 02 Oct 2018
Mothers with elevated blood glucose during pregnancy, even if not high enough to meet the traditional definition of gestational diabetes, were significantly more likely to have developed type 2 diabetes a decade after pregnancy than their counterparts without high blood glucose.
In a recent study of children born to mothers with elevated or normal glucose, there was no statistical significant difference between the two groups of children in terms of their combined overweight and obesity, which was the study's primary outcome. However, when obesity was measured alone, children of mothers with elevated blood glucose were significantly more likely to be obese.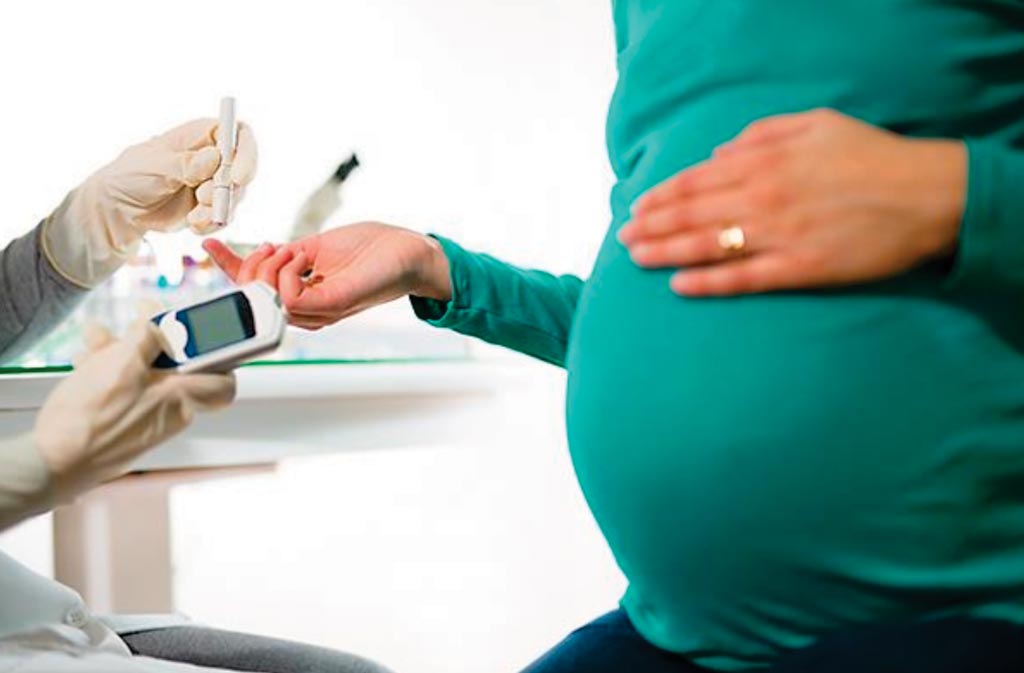 An international team of scientists led by those at the Northwestern University Feinberg School of Medicine (Chicago, IL, USA) examined associations of gestational diabetes (GD) with maternal glucose metabolism and childhood adiposity 10 to 14 years' postpartum. The follow-up study evaluated the long-term outcomes of 4,697 mothers and 4,832 children; study visits occurred between February 13, 2013, and December 13, 2016. Gestational diabetes was defined post hoc using criteria consisting of one or more of the following 75-g oral glucose tolerance test results (fasting plasma glucose ≥92 mg/dL; 1-hour plasma glucose level ≥180 mg/dL; 2-hour plasma glucose level ≥153 mg/dL).
The scientists reported that the criteria for GD were met by 14.3% (672/4,697) of mothers overall and by 14.1% (683/4,832) of mothers of participating children. Among mothers with GD, 52.2% (346/663) developed a disorder of glucose metabolism versus 20.1% (791/3,946) of mothers without GD (odds ratio [OR], 3.44; risk difference [RD], 25.7%). Among children of mothers with GD, 39.5% (269/681) were overweight or obese and 19.1% (130/681) were obese versus 28.6% (1,172/4,094) and 9.9% (405/4,094), respectively, for children of mothers without GD. Among women with elevated blood glucose during pregnancy, nearly 11% had type 2 diabetes at the follow-up study visit 10 to 14 years after childbirth and about 42% had prediabetes. Of their counterparts who did not have elevated blood glucose during pregnancy, about 2% had type 2 diabetes and about 18% had prediabetes.
The authors concluded that among women with GD identified by contemporary criteria compared with those without it, GD was significantly associated with a higher maternal risk for a disorder of glucose metabolism during long-term follow-up after pregnancy. Barbara Linder, MD, from the National Institute of Diabetes and Digestive and Kidney Diseases (NIDDK, Bethesda, MD, USA), said, "The differences in mothers and their children due to the mother's higher blood glucose are very concerning. Even accounting for the mother's weight, glucose had an independent effect. Our findings add to the motivation to find ways to help women at high risk for gestational diabetes who are or plan to get pregnant to take steps to reduce their risk." The study was published on September 11, 2018, in the Journal of the American Medical Association.
Related Links:
Northwestern University Feinberg School of Medicine
National Institute of Diabetes and Digestive and Kidney Diseases

Latest Clinical Chemistry News