Ovarian Cancer Biomarker Predicts Therapy Response
By Labmedica International staff writers
Posted on 01 Oct 2018
Despite months of aggressive treatment involving surgery and chemotherapy, about 85% of women with high-grade widespread ovarian cancer will have a recurrence of their disease. This leads to further treatment, but never to a cure. About 15% of patients, however, do not have a recurrence and most of those women remain disease free for years.
An independent prognostic factor has been identified, known as cancer/testis antigen 45 (CT45), which is associated with extended disease-free survival for women with advanced ovarian cancer. Patients with high levels of CT45 in their tumors lived more than seven times as long as patients who lacked sufficient CT45.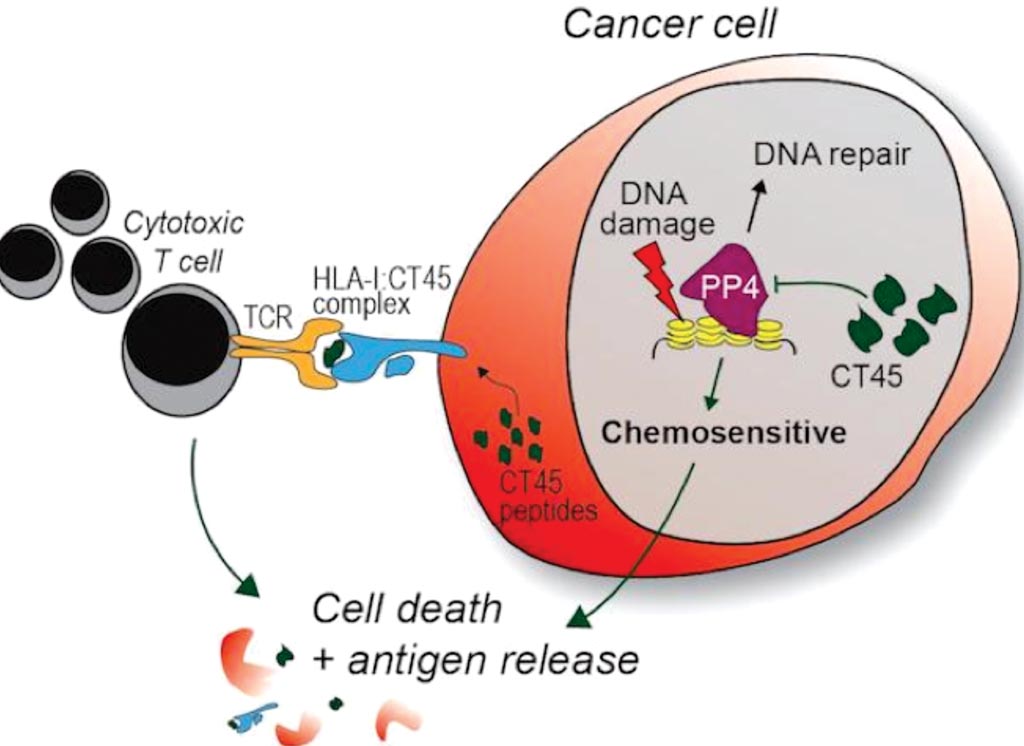 Medical scientists at the University of Chicago Medical Center (Chicago, IL, USA) working with their international colleagues studied tissues collected from more than 200 patients with high-grade serous ovarian cancer (HGSOC). They quantitatively analyzed the proteomes of platinum-resistant and -sensitive HGSOC patients from minute amounts of formalin-fixed, paraffin-embedded tumors.
The investigators found no CT45 at all in 82 of those patient samples, but they found high levels in 42 patients, all of whom had much longer disease-free survival. A larger study, using sequence data from The Cancer Genome Atlas, confirmed their initial results, leading to their conclusion that CT45 expression is a novel prognostic indicator for advanced stage high-grade serous ovarian cancer. They also found two peptides from CT45-positive ovarian cancer cells that stimulated a solid immune response against the cancer. T cells collected from a CT45-positive patient with high-grade ovarian cancer were able to kill cancer cells in vitro in a dose-dependent manner.
The authors concluded that the clinical implications from this study could be significant. Expression of CT45 improves the efficacy of platinum-based chemotherapy, and potentially immunotherapy, for patients with advance stage ovarian cancer. CT45 may be particularly relevant to long-term survival. This study highlights the power of clinical cancer proteomics to identify targets for chemo- and immunotherapy, define their mechanisms and contribute to the development of effective cancer therapies.
Matthias Mann, PhD, chairman at the Max-Planck Institute and co-author of the study, said, "Our goal was to find reliable biomarkers that could predict treatment response. Using mass spectrometry, we can identify, for the first time, almost all of the proteins in the tumor tissue of the patients. Our highly sensitive methods now enable us to profile thousands of proteins simultaneously, allowing us to search for the proteins that are critical to the disease by comparing the tissue samples." The study was published on September 20, 2018 in the journal Cell.
Related Links:
University of Chicago Medical Center

Latest Clinical Chemistry News