POC Testing Evaluated for Fecal Calprotectin
By Labmedica International staff writers
Posted on 13 Feb 2018
Ulcerative colitis (UC) and Crohn's disease (CD) are the two most prevalent forms of inflammatory bowel disease (IBD), with the highest prevalence and incidence in Europe and North America.
Fecal calprotectin (FC) is widely used to monitor the activity of IBD and to tailor medical treatment to disease activity. Laboratory testing of fecal samples may have a turnaround time of 1–2 weeks, whereas FC home testing allows results within hours and thus enables a rapid response to clinical deterioration.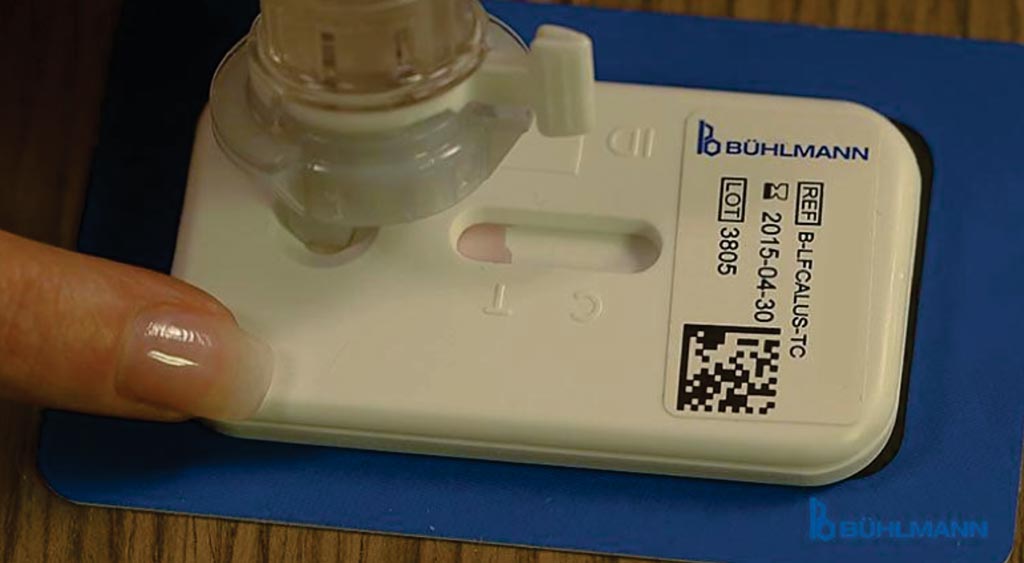 Clinical biochemists working at Copenhagen University Hospital Hvidovre (Hvidovre, Denmark) and their colleagues analyzed 55 stool samples. All stool samples were collected in plastic tubes by the patients and sent in by ordinary mail. The samples were immediately frozen at −20 °C upon receipt and analyzed within 1–2 days. The team investigated the correlation between FC measured by the BÜHLMANN home test kit, IBDoc and BÜHLMANN immunoturbidimetric method fCAL turbo assay on a Roche Cobas 6000 c501.
The 55 samples included in the study, covered the clinically relevant concentrations in the range 38 µg/g to 796 µg/g (BÜHLMANN fCal turbo). The team found a strong correlation coefficient of 0.887 between FC measured on IBDoc and the laboratory assay BÜHLMANN fCAL turbo. Ten extractions of three fecal samples with low (< 50 µg/g), medium (50–200 µg/g) and high (> 200 µg/g) FC concentrations were performed in each assay, showing an intermediate imprecision in the range of 2.3%–5.5% (BÜHLMANN fCAL® turbo) and in the range of 4.8%–26.6% (IBDoc).
The authors concluded that that IBDoc is a suitable alternative for the assessment of disease activity in IBD patients. Point of care testing would reduce the turnaround time significantly and potentially improve the quality of treatment by enabling rapid responses to relapses. In addition, home testing may be the only viable alternative in situations where visits to outpatient clinics are difficult or mailing is precluded because of the poor stability of FC. The study will be published in the March 2018 issue of the journal Practical Laboratory Medicine.
Related Links:
Copenhagen University Hospital Hvidovre

Latest Clinical Chemistry News
Other channels