Thermo Clinical Analyzer Provides Range of Laboratory Tests
By Labmedica International staff writers
Posted on 30 Jun 2017
A new mass spectrometry-based clinical analyzer has been introduced marking a potentially significant development in mass spectrometry evolution as a clinical technology. The analyzer brings together the ease of use of clinical analyzers with the selectivity and sensitivity of liquid chromatography-tandem mass spectrometry (LC-MS/MS).
The fully automated analyzer is designed for use in a variety of settings, including hospital laboratories, and to provide results for a range of clinical tests. The analyzer is intended for analysis of small molecules, and the instrument will allow clinical laboratories to run mass spec-based assays without employing staff specially trained on mass spectrometry.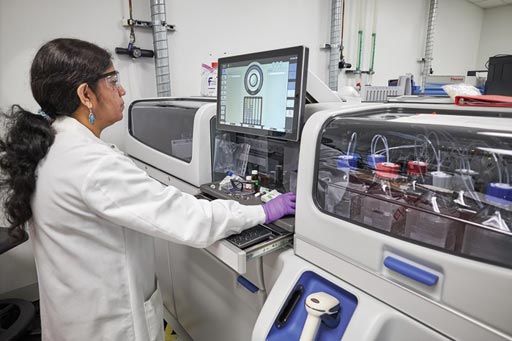 Mass spectrometry offers greater sensitivity and specificity than immunoassays, and for molecules like Vitamin D and certain hormones where antibody-based tests can have trouble distinguishing between closely related forms, it could enable more accurate testing. Given this potential advantage, scientists and clinicians have explored use of this technology for years for these sorts of assays.
The Cascadion SM clinical analyzer (Thermo Fisher Scientific, Waltham, MA, USA) is designed as a turnkey solution to enable clinical laboratories to easily adopt the power and capabilities of LC-MS/MS as the gold standard in screening and diagnostic testing. The Cascadion system combines assays, software, accessories, consumables and support/service in a standalone system designed to meet the regulatory requirements for routine and specialized clinical testing. Designed as a fully automated sample-in and result-out workflow, development features include: gold standard mass spectrometry technology, complete assay kits for standardized results, and traceability of results to reagent lots.
Alan Sachs, MD, PhD, chief scientific officer at Thermo Fisher Scientific, said, "Thermo Fisher is uniquely positioned to deliver an automated clinical analyzer that builds on our leading mass spectrometry platform. It is designed to provide clinical laboratories with a solution that is both efficient and effective in providing results for some of the most sought after clinical tests. Cascadion has the potential to set new standards in the detection and measurement of specialty small molecule assays in the clinical laboratory."
The Cascadion clinical analyzer was demonstrated during EuroMedLab 2017, held June 11-15, 2017 in Athens, Greece. The Cascadion will be commercially available in Europe, followed by the USA once regulatory approvals have been received.
Latest Clinical Chemistry News
Other channels