Simple Urine Test Helps Patients with COPD
By Labmedica International staff writers
Posted on 31 May 2017
An innovative technology could hugely improve the quality of life for people who suffer from the serious lung condition called Chronic Obstructive Pulmonary Disease. The urine test, alerts these people that they are about to suffer a life-limiting lung attack.
Chronic Obstructive Pulmonary Disease (COPD) is a condition that makes it hard to breathe because of narrowing airways and damage to the lungs. COPD sufferers are prone to lung attacks, which can mean their symptoms worsen and lead to hospitalization and even death. In the UK, three million people are living with COPD and each year the condition causes 115,000 emergency admissions to hospital and 24,000 deaths.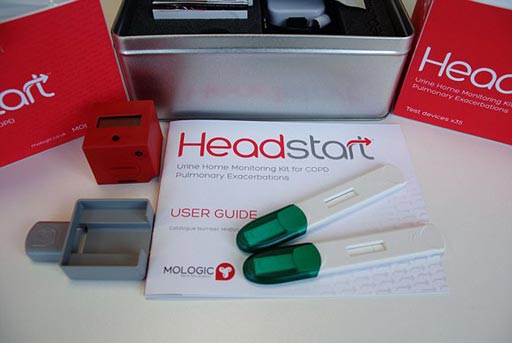 Scientists at the University of Leicester in partnership with Mologic (https://mologic.co.uk) have unveiled the simple in-home Headstart test has already passed the first stage of the development process. The Headstart test is based upon the basic science used in a standard pregnancy test. It works by measuring biomarkers in the urine and transforms the test data into straightforward actions and medications. This test enables chronic obstructive pulmonary disease (COPD) patients to monitor their disease status at home for early indications of exacerbation. It will test the levels of key biomarkers in the urine, interpret them and identify imminent acute exacerbation and cause in 10 minutes.
The most important cause of COPD is smoking, but past exposures to fumes, chemicals and dusts at work can also contribute to causes of the condition. COPD symptoms often do not appear until significant lung damage has occurred, and they usually worsen over time, particularly if smoking exposure continues. Other signs and symptoms of COPD may include shortness of breath, especially during physical activities, wheezing, chest tightness and a chronic cough that may produce mucus.
Professor Paul Davis, chief scientific officer and Mologic co-founder, said, "We accepted the challenge of coming up with a new way to help COPD patients understand, monitor and control what's going on in their vulnerable lungs. Our response to the challenge was to develop a simple, low-cost test, which worked in a similar way to a pregnancy test, only this one can predict impending lung problems. The test is simple enough for patients to use themselves at home, so this puts them at the center of their own care, empowering them to take control. There's a valuable, clear but encoded message written in the substances, which we call biomarkers, when they are excreted into the urine through the kidneys. You just need to know what to look for and how to interpret the message into plain language."
Latest Clinical Chemistry News
Other channels