Targeted System Uses Conjugated Bacteria to Deliver Drugs
By Labmedica International staff writers
Posted on 31 Dec 2018
A novel delivery system for anti-cancer chemotherapeutic agents utilizes attenuated bacteria that have been conjugated to polymeric nanoparticles to transport the drugs via a targeted, passive process.
Cancer drug delivery is problematic due to systemic toxicity of the drugs and inadequate movement of such nanotherapeutic agents to cells in sites distant from blood vessels. In an attempt to solve these problems, investigators at Virginia Tech (Blacksburg, VA, USA) proposed that an attenuated bacterium could be exploited for autonomous targeted delivery of nanotherapeutics to currently unreachable sites.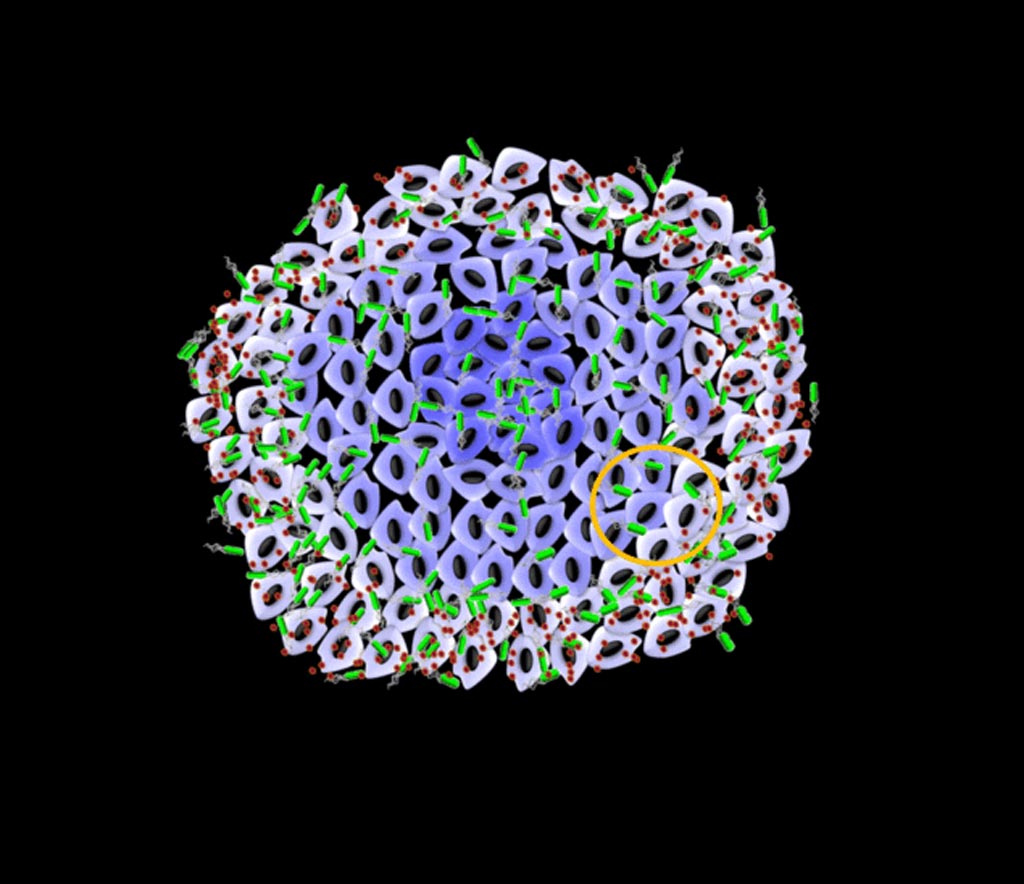 For this purpose, the investigators selected Salmonella enterica serovar Typhimurium VNP20009 (S. typhimurium), as it had been thoroughly studied and had been tested successfully in a phase one clinical trial. For the current study, a nanoscale bacteria‐enabled autonomous drug delivery system (NanoBEADS) was developed in which the functional capabilities of the tumor‐targeting S. typhimurium were interfaced with poly(lactic‐co‐glycolic acid) nanoparticles. Poly(lactic-co-glycolic acid) is a copolymer which is used in a host of [U.S.] Food and Drug Administration approved therapeutic devices, owing to its biodegradability and biocompatibility.
The investigators evaluated the impact of nanoparticle conjugation on the ability of NanoBEADS' to invade cancer cells. This was done by examining intratumoral transport of beads in three-dimensional tumor spheroids in vitro, and the biodistribution of the beads in a mammary tumor model in vivo. The investigators reported in the December 5, 2018, online edition of the journal Advanced Science that intercellular self‐replication and translocation were the dominant mechanisms of bacteria intratumoral penetration and that nanoparticle conjugation did not impede the bacteria's intratumoral transport performance.
The investigators further demonstrated that NanoBEADS enhanced nanoparticle retention and distribution in solid tumors by up to a remarkable 100‐fold without requiring any externally applied driving force or control input.
"You can make the most amazing drugs, but if you cannot deliver it where it needs to go, it cannot be very effective," said senior author Dr. Bahareh Behkam, associate professor of mechanical engineering at Virginia Tech. "By improving the delivery, you can enhance efficacy."
"Its (salmonella's) job as a pathogen is to penetrate through the tissue," said Dr. Behkam. "What we thought is if bacteria are so good at moving through the tissue, how about coupling nanomedicine with the bacterium to carry that medicine much farther than it would passively diffuse on its own?"
Related Links:
Virginia Tech