Vaccination with Receptor Protein Protects Mice against AD
By Labmedica International staff writers
Posted on 12 Sep 2018
A soluble version of a protein involved in the formation of toxic amyloid plaques was shown to prevent aggregation of amyloid beta (Abeta) and slow development of Alzheimer's disease (AD) in a mouse model.
The brains of Alzheimer's disease patients have been shown to express elevated levels of Toll-like receptors (TLRs), a family of proteins on the surface of immune cells that recognize molecules released by pathogens or damaged cells and then initiate an appropriate immune response. Investigators at the University of Florida (Gainesville, USA) hypothesized that a decoy receptor strategy using the external domain of select TLRs could have therapeutic potential in AD.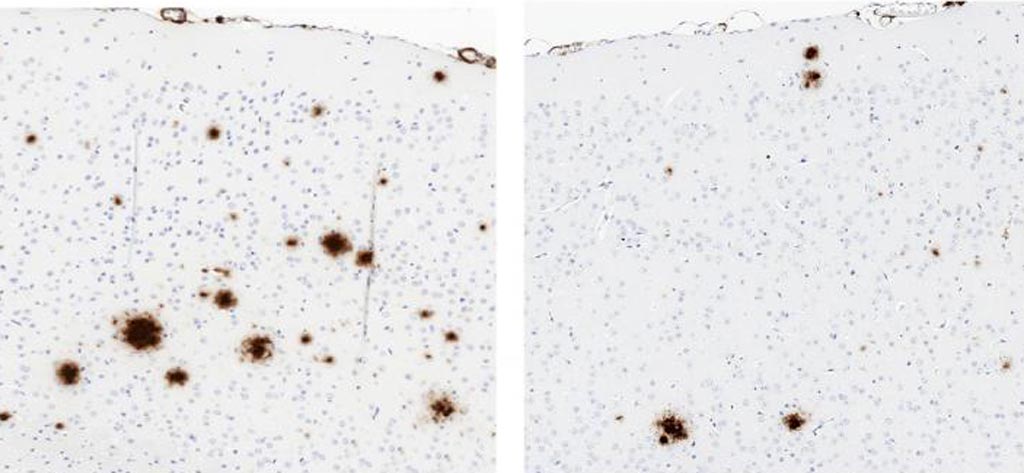 To test this hypothesis, the investigators injected members of an AD mouse model with AAV (Adeno-associated virus) human TLR5 external domain (sTLR5) alone or fused to the human antibody fragment, IgG4 Fc (sTLR5Fc).
Results reported in the August 29, 2018, online edition of the Journal of Experimental Medicine revealed that immunization with soluble versions of TLR5 reduced the buildup of amyloid plaques in the brains of the Alzheimer's disease model mice. In vitro, these proteins protected neurons from being killed by accumulation of toxic amyloid plaques.
Senior author Dr. Todd E. Golde, professor of neuroscience at the University of Florida, said, "By directly interacting with beta-amyloid and attenuating beta-amyloid levels in mice, the soluble TLR5 decoy receptor represents a novel and potentially safe class of immunomodulatory agents for Alzheimer's disease."
Related Links:
University of Florida