Effective Cleanup with Smart Material That Forms Oil-Trapping Net
By Labmedica International staff writers
Posted on 07 Jul 2016
Researchers have developed supergelators – an organic oil-scavenging material that rapidly forms a 3D net to trap oil molecules, gelatinizing into solidified masses that can be more easily removed from oceans, lakes, and other aqueous solutions.
Current techniques of oil spill cleanup are not very efficient and may even cause further damage to the environment. These methods, which include the use of toxic detergent-like compounds (i.e. dispersants) or burning of the oil slick, result in incomplete removal of the oil. Burning can only be applied to fresh oil slicks of at least 3 millimeters thick and also cause secondary environmental pollution.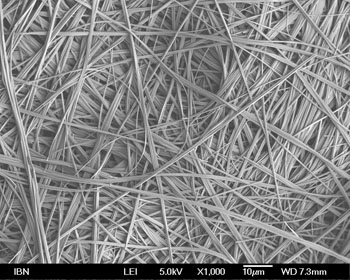 The supergelator material was developed by researchers at the Institute of Bioengineering and Nanotechnology (IBN; Singapore) of Singapore's A*STAR (Agency for Science, Technology & Research). The material compounds are derived from highly soluble small organic molecules that instantly self-assemble into nanofibers to form a 3D net that entangles the oil molecules and forms floating masses that can be skimmed from the water surface.
"Marine oil spills have a disastrous impact on the environment and marine life, and result in an enormous economic burden on society. Our rapid-acting supergelators offer an effective cleanup solution that can help to contain the severe environmental damage and impact of such incidents in the future," said Prof. Jackie Y. Ying, executive director, IBN. The researchers set out to developed compounds that dissolve easily in environmentally friendly solvents and rapidly gel upon contact with oil.
"The most interesting and useful characteristic of our molecules is their ability to stack themselves on top of each other. These stacked columns allow our researchers to create and test different molecular constructions, while finding the best structure that will yield the desired properties," said team leader Dr. Huaqiang Zeng, principal research scientist, IBN.
The supergelators have been tested on various types of weathered and unweathered crude oil in seawater, and have been found to be effective in solidifying all of them. Additional tests showed that the supergelator was not toxic to human cells, as well as zebrafish embryos and larvae. IBN is looking for industrial partners to further develop its technology for commercial use.
The study, by Ren C et al, was published May 2016 in the journal Chemistry of Materials.
Related Links:
Institute of Bioengineering and Nanotechnology